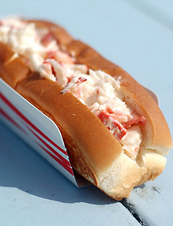 The quest for the perfect lobster roll has taken us far and wide, from the
hinterlands of the UES
to the
resy-less bars of Soho
, but we may have finally found the perfect specimen of Maine-trapped crustacean, mayo and buttery New England baking.  
The only catch: there's a bridge in the way.  
Introducing the
Red Hook Lobster Pound
, a live seafood shop cooking up some of the most authentic New England lobster rolls in town, coming to DUMBO this Sunday at the Brooklyn Flea.  
The Red Hook shop has made its name tracking down the freshest, most delicious lobsters from a secret family of lobstermen in Maine, but this is the first time you'll be able to get a few bites direct from the source. In preparation for Sunday's street-fest, they're chopping up their delicious stock in-house, drenching it with house-made mayo and stockpiling their secret weapon: the fried J.J. Nissen roll. This top-split New England bun soaks up mayo and butter better than just about anything, and results in the kind of lobster roll you thought you couldn't get outside of Cape Cod.
Unfortunately, they're only buttering up enough stock for 500 of the creations, so you'll have about a four-hour window (starting with the 11am opening bell) to get your hands on as many rolls as you can, before all that's left are fried sausages and a parking lot full of grandmothers' couches.
We don't recommend eating either one.