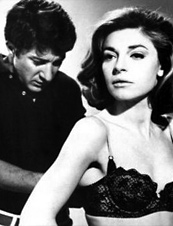 Hemingway liked lions. Ahab had a thing for whales.
But when it comes to tracking urban game, you prefer to hunt prey that hunts you right back.
Which is why we think you'll get a rush from the
Boston Cougar Hunt
, a new social club dedicated to the city's most avid Cougar Hunters…and the Cougars who love them.
It all started humbly enough, with a few friends and an informal evening of Cougar Hunting (which you of course know to be the gentlemanly search for older, wiser and, in some reported cases, more sexually advanced female companionship). But it wasn't long until the brave visionaries behind BCH decided that the entire city of Boston deserved the chance to get mauled by a 38-year-old divorcee, and the hunting trip turned official.
This means now there's a
formal mailing list
, a predetermined meeting point (last one was at City Bar, next one will be at Abe & Louie's on July 16) and an open invitation to arrive in themed attire (BYO pith helmet).
And whether you're a Cougar, a Cub or just a little MILF-curious, you should obviously feel free to attend with a group of friends.
Often the best hunting is done in packs.