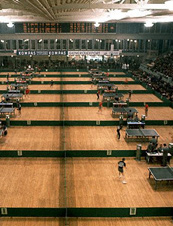 There's something unflinchingly pure about sport at its highest level—the thrill of athleticism, the physical poetry, the intangible joy of watching the human body at work.  
Naturally, we're talking about Ping-Pong.  
Introducing the
HardBat Classic
, a weekend-long celebration of the world's greatest paddle-based sport (sorry fronton), kicking off next Friday.  
In other words, you've got a week to polish your backhand before you face off against some of the best swatters in the world for the largest cash prize in the history of table tennis: one hundred thousand dollars of sweet, sweet Pong money. This is why you spent all those years in your basement rec room, gradually rising to the top of the afterschool bracket. The only difference is, this time the competition includes a few Olympic team mainstays, a 14-year-old Pong prodigy and (for some reason—and we're not complaining)
Anna Kournikova
.   
Just plop down a C-note on Friday and you'll have seven games of balletic Pong-ing to prove your mettle, potentially extending into a marathon of bunts, corner shots and sideways spins. In the unlikely event you get knocked out early, you can always grab a spot on the sidelines and watch the masters at work.
And take in the physical poetry of Ms. Kournikova.