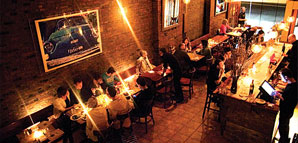 When it comes to cheese, you've been around the block.

Cheddar, Swiss, jumping jack…what can you say, the thrill is gone. Here to reignite your passion: the new Casellula, opening later this week.

The Latin word for "little hut," Casellula is your tiny cheese oasis in Hell's Kitchen. A casual 550-square-foot cafe founded by former waiter Brian Keyser (the Modern), Casellula wields more than 35 rare handmade cheeses from around the globe, including Sibratsfaller Berg-Kase (Austria), Robiola di Bufalo (Italy) and Sprout Creek Farm Toussaint (Poughkeepsie). What's more, dairy is integrated into nearly every small-plate dish, from the Cheese-Stuffed Morel Mushrooms and the Bruleed Rogue River Blue—literally grilled cheese—to desserts like Chocolate Cake with Cream Soak. You can mitigate your cheese intake with more than 70 wines (from Hungary, Greece and South Africa), cask-conditioned beer from Brooklyn's Sixpoint Craft Ales and plenty of cured meats. (Depending on what type of man you are, we recommend either the Smoked Goose Breast or the toasted Pig's Ass.)

And the only thing more extraordinary about Casellula than its breadth of cheeses may be its location. Nestled just west of 9th Avenue on 52nd Street, the cafe manages to emit a charming downtown vibe from a spot not far from Hairspray.

So now even in the thick of Midtown you can impress her with the phrase, "You know, I know this great little cheese place...."