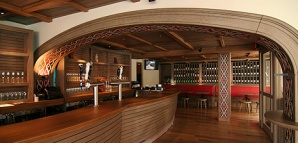 There are three things we all could use more of.

New Zealand gastropubs. Bars with hanging war vessels. Restaurants that rhyme with dandruff shampoos. You can check off all of the above with the new Nelson Blue.

Opening Wednesday in the cobble-stoned South Street Seaport, Nelson Blue is your chance to throw back a few lagers, savor some grilled lamb and bone up on Kiwi culture. Upon arriving at New York's first New Zealand-focused restaurant (not to mention the first one with a view of the Brooklyn Bridge), head to the oak bar to meet gregarious owner Pauli Morgan, an 18-year NYC bartending vet (Puck Fair) and proud product of Nelson, New Zealand. As you sample a crisp NZ-brewed Steinlager on tap, Pauli may mention how the bar is shaped like a ship and the tables like a canoe, which goes great with the East River flowing a few hundred feet from the airy 100-seat indoor/outdoor space. (He may also introduce you to some ladies; Pauli's good like that.)

After a drink, pull up a stool at the hand-carved communal table and order some authentic Kiwi fare. Try the Green-Lipped Mussels imported regularly from Marlborough, NZ; then move onto a nice Curried Lamb Pie or the Grilled Lamb Chops. (You can also add a Lamb Skewer. Did we mention they've got lamb?)

And coming in another week: a 9-foot war canoe hand-crafted by a full-blooded Maori, the indigenous people of New Zealand.

Because it never hurts to have indigenous warriors on your side.