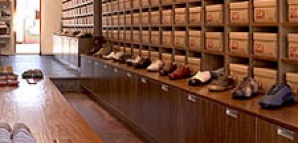 As much as you abhor the phrase "Daddy needs a new pair of shoes," the fact is you could use a new pair of shoes.

And we know how you demand quality, so we've got just the place.

Across the street from Douglas Fir, the classy but hip menswear boutique once singled out by GQ magazine as proof that LA shopping doesn't suck (we paraphrase), offshoot DF Feet focuses entirely on footwear. Inside the new shop, shoeboxes are stacked meticulously within individual cubbyholes, and the merchandise is unique but not ridiculous, stylish but not disposable, comfortable but not orthopedic. Highlights of the stock include limited-edition Vans with rubber-grid tops, canvas Comme des Garcons, nicely broken-in leather Paul Smiths and suede PZeros made by the Pirelli tire company (you'll corner Crescent Heights like you're on rails).

And while you're there, you might as well pick up a pair of Falke socks, which the guy behind the counter, Trevor Einhorn, claims to wear every day. Each pair of Falkes is thin enough around the ankle to be suit-appropriate, but provides enough thickness underfoot to make braking on the 405 comfortable. Who knows, after a trip to DF Feet, you might even start walking more.

On second thought, never mind.