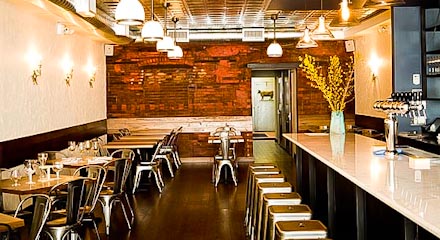 Sometimes you want to step inside a place and feel like you're somewhere else—but not anywhere too strange. Somewhere like...Belgium.

Opening tomorrow, Resto is your one-way ticket to a neighborhood brasserie in Brussels. Enter owner Christian Pappanicholas's (ex-manager of 'inteca and Otto), who knows a thing or two about atmosphere—cozy, oak-heavy establishment and head to the marble-topped bar, where you'll have access to seven Belgian beers on tap (like Delirium, Grotten Brown) and 55 more in bottles. Not to be too beer-centric, there are also 60 wines offered from Europe, and even Spa Belgian water. Cuisine-wise, chef Ryan Skeen (Cafe Boulud) will serve both Belgian mainstays like mussels and fries, plus fresh pork, lamb and duck sausage that's ground daily in-house.

And for an up-close look at that hanging sausage, you can snag a spot at the four-person marble table inside the kitchen. As cooks buzz about, Skeen will pair wines with a tasting menu that's always changing. If you ask nicely, he might even whip you up some hefty Liege waffles.

Somehow, we always knew we liked the Belgians.