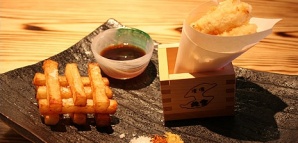 Even in a city with a virtually limitless array of dining options, some dishes are way too good to miss—they demand immediate consumption. Every month, our feature Served Up gives you the lowdown on a standout dish in the city. Dig in.

Once in a while, it's good to loosen up.

Take Nobu. After more than ten years of getting the upscale sushi thing down, they deserve to have a little fun. So Nobu London recently began paying a culinary tribute to its pub-loving environs, and that tongue-in-cheek dish has found its way across the pond.

Presenting: Fish and Chips.

Available only to friends, family and those in the know, Fish and Chips is an off-the-menu item at the 57th Street spot, not to mention Nobu's most casual meal yet. Exec chef Matt Hoyle uses a tempura batter to gently fry the pieces of Japanese cod called madara, then places them in a dignified Masu box. The fries, cut long and thin with precise 90-degree angles, are neatly arranged like Lincoln logs on the plate. For seasoning, you can dunk both the fish and chips in a vinegar-tinged ponzu sauce, then dab them in one of three spices: Maldon salt, curry salt or shichimi (which packs a wasabi-like kick).

The result? The cod is delectably crispy, light and fluffy, almost cloud-like. The chips, though golden brown on the outside, offer a substantial potato middle. Taken together, it's like Portobello Road with a Tokyo twist.

For a second, you might just forget all about a certain black cod miso.