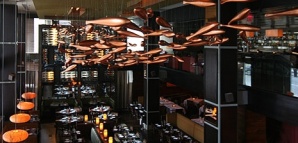 You have a longstanding arrangement with salmon: You smoke it and put it on a bagel.

Wild Salmon, Jeffrey Chodorow's new restaurant opening tonight in midtown, aims to step outside the lox.

The concept is simple, but grand in scale (surprise, surprise). Take the freshest, wildest, natural ingredients and wine from a region ripe with fresh, wild, natural ingredients and wine (that would be the Pacific Northwest) and fly them to New York regularly (thank you, Alaska Airlines). Oh, and fly in a chef (Charles Ramseyer, formerly of Ray's Boathouse in Seattle) who knows how to handle the goods.

There are five types of wild salmon (that apparently follow the Wu-Tang school of naming): Sockeye, Chinook, Coho, Keta and Humpy, and they appear in all types of incarnations, from house-smoked to simple-grilled, throughout the menu. Surprisingly, it's not just the salmon that's gone wild. There are Walla-Walla onions for stuffing and wild mushrooms for a ragout. And the Washugyu beef short ribs fall apart when you look at them.

As for the decor, the former Tuscan, Tuscan Steak and English Is Italian space maintains the big oh-so-Chodorow vibe. There's the big dining room with 250 copper-colored fish hanging from the two-story-high ceiling, the big raw bar with king crab legs prostrating themselves for you and the big two-story-high glass wine racks.

Now all you need are some bigger bagels.