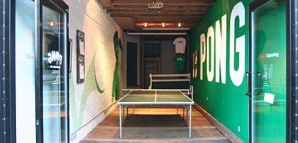 In this town, freshness is everything.
Take that peculiar spot in your neighborhood. One day it's a Chinese restaurant. A few months later, it's a German beer garden. Then, a French café.
Along the same lines but without the pesky ownership changes, there's
GrandOpening
.
The working office of a design firm as well as a showcase of what it can do, GrandOpening is your surreal clubhouse on the LES. The concept from
Canadian
brothers Ben and Hall Smyth is this: In order to engage/freak out the community, every three months the space will be completely retooled. For the first quarter-year, the headquarters was an exhibition on barn assembly. (Yes, really.)
Lucky for you, it just became a ping pong parlor. Stop by GO from now until the end of June, and you and a friend can knock it around on the 1960s-era table for $6 every 20 minutes. Starting next week for an extra $10, they'll even digitally record your match and post it on YouTube (watch out, Lonely Girl). And for $50, the 400-square-foot room—which also includes a projection screen and bleachers—is yours for an hour (and, yes, it's BYOB). Though smallish, it might just be the best party space deal in the city.
Then in July, it all comes down—in favor of what, the Smyths aren't yet sure. Maybe a movie theater, a driving range or a dominoes emporium. But you can expect a return to the current motif sometime down the road, which is a good thing.
Because while the element of surprise is nice, it's tough to beat cheap ping pong.