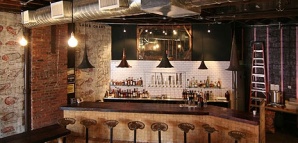 There are a few things that can draw you over to Brooklyn.

Barbecue is high on the list.

And if it's slow-roasted in a funky old-school meat market, all the more reason to head over the bridge.

Opening tomorrow in Williamsburg, Fette Sau ("Fat Pig" in German) is the answer to your carnivorous prayers: part all-American barbecue pit, part beer and bourbon bar. Venture down the narrow, picnic table-lined patio into this converted mechanic's garage—across the street from owner Joe Carroll's other masterwork, Spuyten Duyvil—and you're instantly struck by two things: an entire wall of cartoonish yet edifying sketches of butcher cuts, and the satisfying smell of smoked meat.

At the counter, order your barbecue by the pound (they smoke about 200 pounds of meat a day, so they should have you covered). The rotating menu includes plenty of pork, steak and lamb arriving daily from organic Bronx farms, which raise fattier (read: tastier) breeds. Next, marvel as pit master Matt Lang retrieves meat from an 18-hour stint in their enormous gas-and-wood-fired smoker and serves it up on butcher paper.

Then settle down on a cast-iron tractor seat at the hearty Douglas fir bar, where you can sip a local brew pulled from butcher knives doubling as tap handles. If you've still got room (fat chance), there's German potato salad, baked beans or pickles trucked over from Guss' on the LES.

Which reminds you: it's probably about time to start heading back.