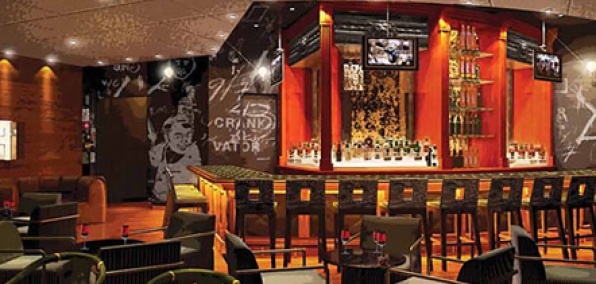 It's 4am Friday night. You've been on a monster blackjack heater. You met someone named Candy. And you may or may not have stolen Mike Tyson's tiger.

It's the kind of night you're not ready to give up on yet, so you're gonna need to refuel for the homestretch.

But we're thinking the normal casino food court just won't cut it (not to mention Candy is officially banned from the premises).

Introducing the First Food & Bar, a glamorously gritty after-hours spot that just became your all-night source for sliders, mini tacos and the kind of refined society you can only find on the Strip after midnight, now open at the Palazzo Shops.

Think of it as the happy medium between the sleazy North Vegas diners and the pristine coffee shops a little farther south. You won't have to venture off the Strip, but you'll get all the decorative squalor you need. The back wall is filled with tribal tat wall art (breathtaking) and offhand graffiti to complement the clientele, while the outer ring of leather armchairs reminds you you're still in the Palazzo.

As for that after-hours snack, chef Sammy DeMarco perfected kitschy comfort food while he was still on the East Coast, so it was no trick to move it to the desert. We suggest a stack of pancakes and a breakfast martini, or the lucky onion soup for—wait for it—$7.77.
 
We're guessing it pays for itself...