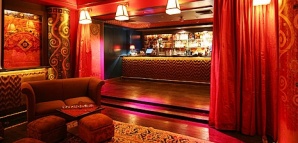 The Moroccan/French/Northern African lounge and restaurant you've been looking for in midtown has arrived. All right, maybe you weren't looking for a Moroccan/French/Northern African restaurant and lounge, but with the opening of
Azza
tonight, maybe you should have been
Drawing on influences as varied as Moroccan, Iberian, Israeli and French, Azza (precious) is a multi-cultural hideaway that gets high marks for ambiance, food and a come-one-come-all attitude.
Walking through the discreet doors is like walking onto the set of an Indiana Jones movie (minus the whip and poisoned dates). Persian rugs cover the floor, iridescent curtains divide the rooms, and the walls are painted red with gold leaf and hand-worked frescoes. Ornate bejeweled lanterns provide an ambient, dark and colorful glow throughout the maze of rooms, stairways, bars and booths.
The music starts out loungey with Asian and Middle Eastern influences and moves toward eurohouse as the night goes on and the hookahs (served with no tobacco, only dried fruit) come out. And the food is certainly not an afterthought. Formerly of Aquavit and
Le Cirque
, chef Steven Ferdinand serves organic Moroccan food at the highest level. The menu, a mix of tagines, mezzes and couscous (you know, the big three) is exotic, but extremely accessible.
And if you get bored with the exotic cuisine, beautiful staff, interesting crowd and ornate surroundings, there's always the private game room with poker tables, PS3 and a pool table.
Admit it, you're intrigued. head butler