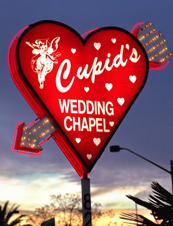 Wedding season is upon us. 
And while there's a lot to love—open bars, bridesmaids, the breathtaking moment where eternal love is sanctified—we also have a few...improvements in mind.
For starters, cut out the in-laws, the first dance, Uncle Toby and the part where you have to leave the island.
Introducing the
Wedding Chapel
, a one-stop nuptial shop with all the whirlwind romance of a bang-bang Vegas wedding.
Forget those destination weddings in rural Guatemala: if things go well, you'll be in and out of this chapel in less than an hour. On the Lower East Side. So if your third brunch-time Bloody Mary was enough to convince you she's a keeper, just stroll down to the former
poker den
/
Ping-Pong club
at 139 Norfolk and make things official. Inside, you'll find an ordained minister, a few Vegas-style murals (presumably depicting The King) and a streaming video feed to send to your doting but safely distant relations. Memories are made of this…
When it's all done, you'll get a few streetside snaps for nostalgia's sake (they double as material evidence) and a pair of matching T-shirts to guide you through your new life together. (Think of it as a wedding ring you can wear to the gym.) If you're feeling particularly frisky, you can even book an hour-long reception with a martially trained DJ before you move the show down the street for a real drink.
We suggest a registry at Schiller's.