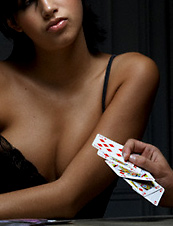 There is one game in Vegas that has always seemed a little out of your reach…
A game so mythical, so legendary, you almost started to wonder whether it actually existed, or if it was just the stuff of Vegas fantasy.
We're talking about strip poker. And we're here to tell you that your long wait to play it is finally over. It's here.
Introducing Excalibur's Saturday night
Strip Poker
, an all-night Hold 'em bash dedicated to lady luck and a few of her more tangible sisters. Think of it as the best Vegas has to offer, all at one table.
It might work a little different from the version you grew up simulating on your IBM, but the basic principle is the same: the more you win, the more she takes off. The difference is, this time around she's a professional and you won't have to put any of your own precious threads on the table.
Instead, the game is a weekly no-limit tournament, with a trained dancer inching closer to her stunning birthday suit as the field narrows.
Which means there's a little bit more riding on that bluff than a payday. You're playing for the beauty of the female form, so you'd better make the most of every hand. And if you manage to last until the end, you'll get the benefit of a full show, a snapshot with the recently denuded goddess and a well-earned pile of chips.
We knew we learned poker for a reason.