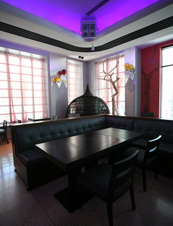 Driving in Miami is…well, it's not always fun. Parking in South Beach can be even less awesome.
And sometimes your social life calls for making appearances at multiple party scenes in one night (you know, like Katherine Heigl in
27 Dresses
. Um, from what we could ascertain from the previews...).
So when we got wind of a new colossal nightlife hub that houses several bars, an outdoor lounge and the restaurant of a top-drawer chef all under one roof, well, needless to say our cabdriver was very excited.
Introducing
Bancroft Supperclub
, eliminating the multiple-stop weekend club crawl, opening this Friday in South Beach.
Bancroft feels a lot like a sprawling '20s jazz hall, only with Madonna impersonators, plasmas on the ceiling and sumptuously organic, new-American dishes from multitalented chef Tim Andriola (he of N. Miami's Timo fame).
Housed in the deco-tastic Bancroft hotel, the space has been gutted and revamped to resemble a plush hideaway, where an all-marble bar, a soon-to-open upstairs lounge and an outdoor patio peppered with couches made of the finest wicker give you plenty of options to spread your nightlife wings.
And should you and your supper-mates get hungry, you can move your party into the elegant downstairs restaurant, complete with a 20-foot runway.
Because some nights you want everyone to be able to admire your chinos.