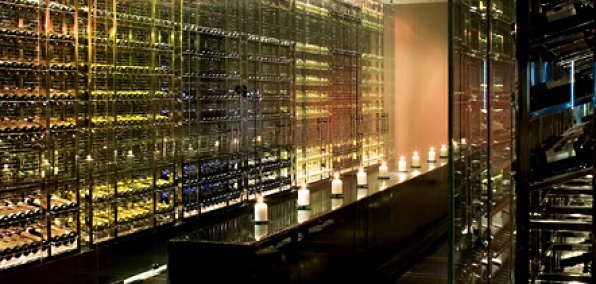 Sometimes the economy hands you lemons.
 
And sometimes you ignore those lemons and continue to make Zucchini Blossoms filled with Blue Prawns. In an Asian-French haute dining palace. Inside the majesty of the Setai Building. On Wall Street. In 2009.. On Wall Street. In 2009.
 
Welcome to the ignorance-is-bliss splendor that is Sho Shaun Hergatt, now taking reservations for its Monday opening.

Think of Sho Shaun as the perfectly Zen, large, multi-room, sleek Buddhist den of a restaurant that you've been secretly craving through tough times—complete with placid water and rock sculptures, refined pockets of comfortable booths and white-clothed tables spread throughout three main rooms, red velvet walls and the gentle whiff of orchids emanating from every corner.
 
There are a couple of major uses here: it's the kind of place you'll pop in for an early morning pre–opening bell power-breakfast to mull over your TARP funds application strategy, or the kind of place you'll use for a little Wall Street romance as you work your way through three courses of Muscovy Duck Breast, Rabbit Loins and a little dish called the Golden Egg (ah, the beautiful pairing of caviar and gold leaf).
 
If you want to keep things a little more private, find your way through the wine cellar to a private room stacked with a table big enough for a proper board meeting.

Well, at least a 2009 version.
Note:
<a href="http://www.shoshaunhergatt.com/">Sho Shaun Hergatt</a>, open to the public, for reservations call 212-809-3993