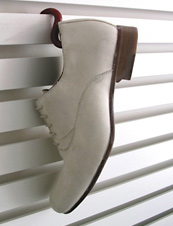 Brevity, if we may paraphrase, is the sole of wit.
So allow us to introduce a worthy new blink-and-you'll-miss-it shoe store—
The Generic Man Pop-Up Shop
debuts this weekend.
For about a month, all the brand's collections will be available here in full, from the sleek, logo-free classics…to the Vans-style collaborations with Steven Alan (we're thinking barbecue)…to the Re-Edit series, made from such vintage fabrics as old army canvas. Also included: Generic Surplus, the lower-priced sneaker collection, and the debut—or perhaps we should say kickoff—of Generic Woman. Not that you'd ever call her generic.
You'll find the place covertly nestled in Space 15 Twenty, along with the
What Comes Around Goes Around
vintage shop, so it's easy to stock up before hitting the Cahuenga Corridor dance-floor circuit later on. If you've already gotten your kicks this summer, you can also peruse non-foot finds like Super by Retrosuperfuture sunglasses (exclusive to this shop, and somewhat ominously dubbed
The Super Flat Top Havana Glitters
), a geo-birdhouse, some mid-century furniture and, of course, spider plants.
Because a shoe store that only sold shoes would be so…generic.