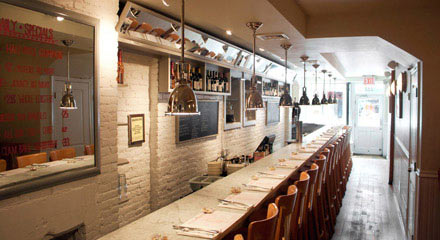 A little more lobster never hurt anyone.

You could do with fewer tuxed waiters and white tablecloths though, which is why we are eager to welcome the new Ed's Lobster Bar to our repertoire of regulars around the city.

Ed McFarland, the old sous-chef at Pearl Oyster Bar, is moving on to lobster. And since he actually likes lobster better than oysters, this bodes well for us. The comfy sliver of a joint practically begs for you to grab a little fork and tuck a paper napkin into your shirt—white-washed wood surrounds a long marble-top bar seating 29 (think Momofuku meets Cape Cod), where specials will be written in chalk on blackboards. In the back, a small room holds a dozen tables if you prefer a more civilized setting to tear into some claws.

The lobster is flown in fresh from Maine's DownEast region every single day (where the water's colder, shells are harder and meat is sweeter)—and even better, Ed's will stay open and serve basically until they run out, which means no leftovers. The Lobster Roll is light on the mayo, and the Lobster Pot Pie should make chicken a faded memory. Servers are trained sommeliers who can help you pair your fare with unique beers and wines, like the Smutty Nose Porter from New Hampshire. But the best pairings of all are Ed's Pickles, which have a briny, sour, peppery punch that should kick your taste buds into overdrive.

Ed's officially opens to the public on Friday but won't turn anyone away for friends and family tastings tonight and tomorrow night. Their no-rez policy can be slightly dodged with an insider tip: If you have a larger party (say 6), you can call an hour before you want to come in and they'll hold a table for you.

As for a standing table, you'll have to take that up with Ed.