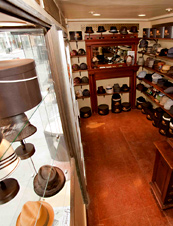 Sometimes you feel like a nut.
Sometimes you don't.
If you're feeling the former, bad news: the legendary (in a nutty kind of way) Morrow's Nut House has closed. For the rest of us, however, there is reason to rejoice (or at least drive to the old locale):
Goorin Brothers
—a family-run hat company that's been cranking out fedoras since 1895—is taking over the joint.
While there's nothing like your trusty wool cap to keep you warm on many a foggy summer morning, there are times when your look requires something slightly more dapper—say a black pinstripe fedora—and that's when you'll want to squeeze into this dime-sized shop.
Gone are the shelves of knickknacks and counter displaying a dizzying array of honey-roasted nuts, and in its place is an equally impressive assortment of hats, in the hundreds. On these shelves, you'll find everything from Goorin's top-tier Cassel line of strollers and fedoras made using the finest felts and silks, to the more showy 1333 Minna collection of duckbills and baseball caps embroidered with work from local tattoo and graffiti artists.
For the fun of it, slip on the
Dirty Harry
with an embroidered pistol on the side and sneak a glimpse in the mirror of the antique mantelpiece lifted from a nearby Victorian.
Why, yes, I am feeling lucky...punk.