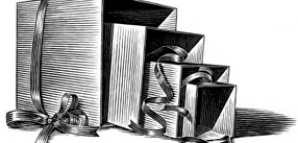 In addition to his
women
, the Daddy bestows his goodness on some others as well. Again, so should you.
PARENTS
Satellite Sirius Desktop Radio
$299 gets them a desktop satellite radio from the absolute coolest audio gear brand in the world. Best of all, it's guaranteed to be back in your hands in a week, when they decide they don't know what it does.

BOSS
Zagat Online Subscription
What says, "I'm here to help," but really means, "Eat up, fatty"? A $25 subscription to
Zagat Online
, of course. It's the greatest thing to happen to your boss's restaurant arsenal since they upped his expense account to five figures. That bastard.

YOUNGER SIBLINGS
(the sibling rule is "gift down", meaning you're off the hook for the older ones):
The Game
Neil Strauss's autobiographical treatise on "scoring" is fast becoming a classic—a great gift for your younger brother, but ironically, an even better one to prepare your little sister for what's in store.

& THE HELP
Cash
, people
Here, a handy guide to ensure that your doorman continues to make the hot ones feel welcome and your chef doesn't poison you.