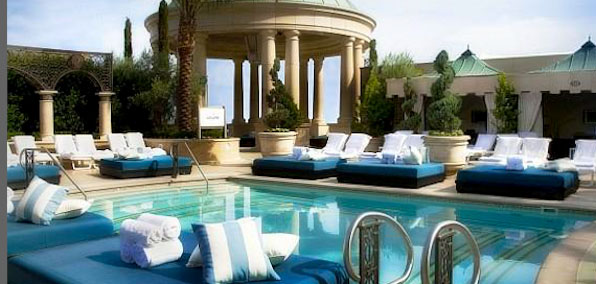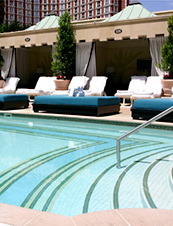 The blowout pool party is a beautiful thing. Under the right circumstances it can transform a lazy Saturday afternoon into an eight-hour marathon of boozing, gambling and the pursuit of pleasure.
But sometimes, even we need a break.
Introducing
Azure
at the Palazzo, a pool party dedicated to soothing massages, recuperative soaks and all the pleasures of the gentler side of Vegas.
That means masseuses instead of models, frozen grapes instead of sliders and a full staff of butlers (and, more importantly, butlerettes) attending to your every need. You'll have a steady diet of calamari and caviar pizza on hand courtesy of Wolfgang Puck, and any time the sun gets the best of you, a champagne massage or frozen towel is just a gesture away. They'll even apply your sunscreen free of charge, in case you have trouble reaching that one spot on your back...
Of course, even off-days need a bit of spice, so you'll still be able to order up a magnum of Veuve when the mood strikes you, but the revelry is of a calmer variety. The Saturday afternoon bashes still bring in DJs, celebrity stopovers and sponsored cocktails, but here they're mixed with acoustic sets from a few of the city's more relaxing talents.
Only some of whom are butlerettes.