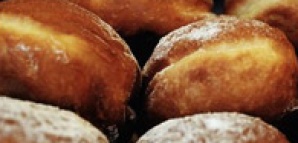 Even in a city with a virtually limitless array of dining options, some dishes are way too good to miss—they demand immediate consumption. Every month, our feature Served Up gives you the lowdown on a standout dish in the city. Dig in.

From eclairs to the ubiquitous glazed, doughnuts are proof that miracles can happen.

Which is why you love inhaling them on the way to work or whenever you're in the break room of a power plant. But for doughnuts to make the transition to cutting-edge cuisine, they needed a French injection. Introducing: the Foie Gras Doughnut.

An off-the-menu item at Telepan on the UWS, the foie gras doughnut is the perfect marriage of sugary pastry and fattened goose liver. Chef and owner Bill Telepan serves the bite-sized delicacy a couple nights a week, provided he has the ingredients and you're worthy of the experience. The creation comes together like so: First, brioche dough is rolled into balls, fried for four minutes and punctured; next, the foie gras is beaten from a terrine into a mousse and piped into the doughnut's center through a pastry bag; finally, the golden-brown nuggets receive a dusting of cinnamon and cocoa powder before being served in a bowl (where they're easily mistaken for potatoes).

For maximum savoring of the liver-infused treat, the sommeliers at Telepan recommend adding a Jurancon from the southwest of France. The white wine's sweetness plays well off the doughnut's high fat content.

Or you could always pair it with a cup of coffee. Perhaps one from the southwest of Bogota.