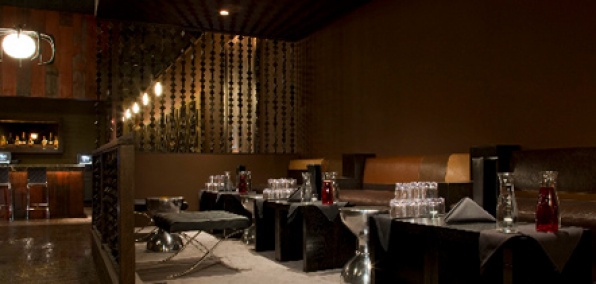 This weekend is the start of summer, so needless to say you're just itching for something hot and funky. 
Here to scratch that itch:
The Shrine
, a glamorous temple to the very best of funk, soul and a few overpowering libations, soft-opening Friday.
From the outside, it's just another nondescript gray South Wabash building (directly across from
this place
). But walk in and you'll discover a vibrant Africa-inspired adventureland, giving you two paths for your evening expedition.
You can forge straight ahead past the heroes-of-funk collage to the main room, with an unobstructed view of the stage, lots of space for you to groove, a VIP section for bottles—and mixologist Myong Park whipping up cocktails named after dictators, like the
Noriega
,
Qaddafi
and
Sadat
. Owner Joe Russo (that genius behind Funky Buddha) promises an eclectic entertainment palette, from jazz-funk trios to poetry slams to the in-house dance crew, the Shrine Dancers.
But for a more intimate evening, turn left after you enter and head to
Coup d'État
, the mellower lounge. Outfitted with reclaimed wood and a concrete floor cast to look like planks, it has the feel of a Kenyan hunting lodge circa 1970.
So maybe leave your
Noriega
in the other room…