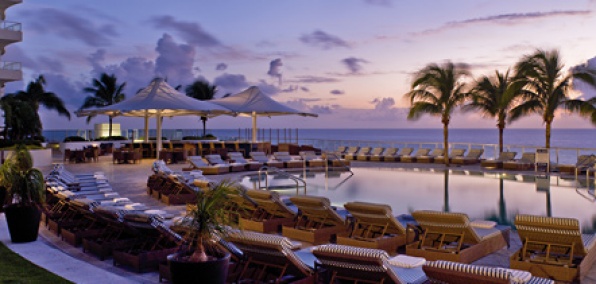 It's not that we've got anything against Ft. Lauderdale.

On the contrary, we've had many a memorable night slurping frothy drinks at the Elbo Room, and even a few good memories of Riverwalk (hazy as they may be).

But there comes a time when one wants something more. A place where drinks are not three for one.

For those times there's Oasis on the Boulevard, a little slice of South Beach in the heart of Ft. Lauderdale.

Located on the seventh-floor pool deck of the Ritz-Carlton Ft. Lauderdale, this tranquil spot is the city's only ocean-view lounge (hard to believe, but true), offering Atlantic vistas far removed from the A1A. It's perfect for when you want to kick back in a plush cabana and sip a mojito while the sun goes down—accompanied by the sounds of a DJ who owns nothing by Jimmy Buffett, and plates of Fried Pacific Oysters.

Of course, a scene this spectacular has to have a catch, and the one here is that it's only open in all its DJ-and-cocktail glory once a month. The good news is the next one happens tomorrow evening, when they'll have complimentary caipirinhas for you the first hour, and $6 cocktails after that.

Think of it as three for one, South Beach–style.