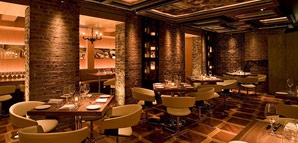 When you dig down seven feet deep, whether into hard granite or your subconscious, things are bound to get a little interesting.

Hence Amalia, the results of a subterranean excavation gone well. Opening tomorrow night (adjacent to the Dream Hotel), the hotly anticipated restaurant is named after dream-interpretation master Sigmund Freud's mother, and boasts a killer subconscious—read subterranean lounge—to match.

Check your superego at the door—or quickly lose it at the bar, which, like the rest of Amalia, blends over-the-top baroque elements with cozy, brick-walled luxury. The best seats in the house might be in the gallery room, where you can indulge your ego (and your appetite) with Smoked Berkshire Pork Porterhouse and house-made liqueurs, as you gaze up to a ceiling festooned with Renaissance paintings (Freud's couch couldn't be this comfortable).

Afterward, venture down the floating staircase—or take the separate stairwell on 55th through a golden door—to arrive at Amalia's darker, debauched half, D'Or lounge (opening in a few weeks). Gritty walls remain exposed from the dig, and a gloomy staircase leads to nowhere (not unlike your last wandering thought). Those preferring a moodier ambience can dine down here, and as the pneumatic-powered tables lower after dinner to lounge level, the cocktails flow, and the DJ starts the music, exercise Siggy's pleasure principle and let your id take over.

These are some memories you won't want to repress.