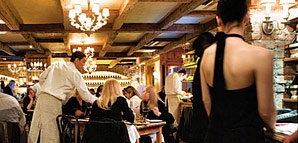 Keeping track of the hottest and newest restaurant in Manhattan isn't for the faint of heart. To make matters worse, "hottest and newest" doesn't always mean "go-to date place." Unless, of course, you're talking about Morandi.

Opening tomorrow in the West Village, Morandi is the new restaurant from atmosphere guru Keith McNally. But unlike McNally's previous society-clad masterworks (Balthazar, Pastis, Schiller's Liquor Bar), this is as much a place to be seen as it is a place to woo (we like our late winters woo-heavy). Italian as a Botticelli, the low-ceilinged space uses enough aged brick and imported Ligurian tile to fill a compound in Sardinia.

The menu from chef Jody Williams (Il Buco, Giorgione, Gusto) boasts pages of Italian dishes like Burrata, Risotto sotto bosco and Bollito misto, but also incorporates less Old Country mainstays such as Coniglio in porchetta (roasted rabbit in lardo), not to mention Bistecca per due—a killer porterhouse for two (dry-aged and grilled with rosemary and garlic for a mere 72 dollars). Libation-wise, renowned mixologist Dale DeGroff has whipped up a bevy of cocktails (Bloody Bull, anyone?), or you can enjoy top-notch wines by the glass or bottle.

Between your skills and this trattoria's romance, your guest is all but guaranteed to be moonstruck.