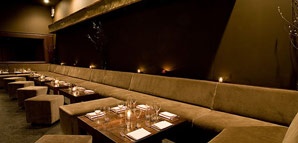 After exploring almost every possible nightlife option, you may still be looking for a place where you can enjoy dinner in a comfortable setting with some close friends and um...a retractable rooftop.

One new possibility is Boucarou, which plans to bring you all of the above, other than the close friends. Boucarou takes its name from the backyard, open-air bungalows in Cameroon maintained by the wealthy for entertaining guests. Here in NYC, it's simply the newest spot for convertible-dining. Designed to be a "real European lounge," the dining experience at Boucarou happens on leather and suede banquettes (apparently "real" Europeans don't much like chairs), where you're encouraged to sprawl out while eating boucarou-inspired dishes—like the Saint Tropez Shrimp Cocktail (with seaweed salad and served in a martini glass) and Malik's Mase (an Asian-style lamb stew)—created by Malik Fall (Asia de Cuba, Nolia). Enhance your meal with specialty drinks like the Boucarou Fire (Absolut Pepper infused with extra chili peppers) which tastes pretty much like...fire.

On those long-awaited warm, sunny days, expect the front of the venue to open out into the street and the upstairs room's retractable roof to pull back, letting in enough air and light to fool even downstairs patrons into thinking they're sipping cocktails in West Africa—an illusion that's furthered by a musical playlist of French classics from the '60s and '70s as well as Putumayo World Music.

Think of it as a taste of Europe, without the nasty exchange rate.