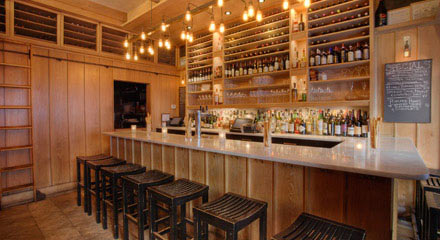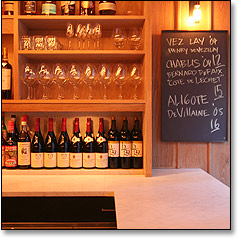 Sometimes you want to get away from the hype. Sometimes all you want is a small piece of countertop where you can order a large glass of pinot and a small plate of bacon flatbread and know that your drinking pleasure has only just begun.
In those instances, may we suggest...
Blue Ribbon Downing Street Bar
.
At the start of next week you can expect the newest chapter of the Bromberg brothers' eatery empire (following Blue Ribbon
Restaurant
,
Bakery
and
Sushi
): a temple to wine, liquor, gourmet snacks and the warm fuzziness of simple things done right.
Enter through the red velvet curtain into a Sideways-esque world fashioned as the inside of a wine barrel—wood paneled walls, French limestone floors, wall-to-wall wine bottles and the promise of an intimate setting wrapped up in just 14 backless wood stools (prepare to fight dirty).
As the recipient of one such stool, expect the bounty of the entire Blue Ribbon Team's wine expedition: 150 of their favorite bottles of vino from across Spain and France, perfectly accompanied by snacks like head cheese, escargot and crayfish (hey, you only live once).
After all of that, it's completely natural that you may feel the need for...a harder drink (don't worry, it's natural). Rest assured that you can end your stay with a glass of Brandy Milk Punch or perhaps a stiff glass of Scotch.
All of which leads us to believe there's only thing left for the Brombergs to do: the Blue Ribbon Hangover Cure.