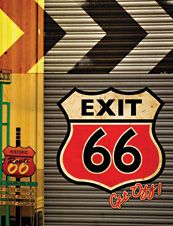 Some things are undeniably sexy.
Eva Mendes in a bikini. São Paulo's sun-dappled beaches in July.
And, of course, the truck stop.
So say hello to
Exit 66
, your new weigh station of Americana-soaked arousal, pulling into Fort Lauderdale this Friday.
Brought to you by the visionary nightlife masterminds behind Crobar, Exit is a sprawling, five-room megaclub that takes its inspiration from America's highways and road warriors—though think less overweight-truck-driver, and more
Easy Rider
sex romp.
After putting on something flannel and making the quick drive north, start your evening with a cold PBR at
Billy's Bar
, then head up to the
Cool Pool Lounge
, where billiards and beer-bottle service (consisting of six-packs in a champagne bucket) await. From there you've got options, but be sure to catch a dose of honky-tonk burlesque in
Madame B. Atch's Bunny Ranch
, where the performers' lack of nakedness is tempered by the twice-as-tall dance poles. Oh, and just like your favorite truck stop, there's also a poolside lounge with cabanas.
The blue-collar fun kicks off Friday with swimming mermaids, Bettie Page–like pinup girls, roller-skating models, rockabilly, Harleys and Pee-wee Herman impersonators.
In other words, they're easing themselves in.