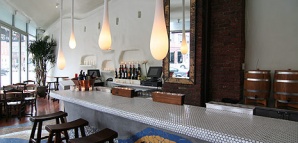 If you've been enjoying your Spanish tapas without wavy ceilings and hanging bulbous lamps, you haven't been enjoying it properly.

At least according to executive chef Craig Wilson, who claims to have the only truly authentic Spanish tapas restaurant in Manhattan, Tasca, opening today in the West Village.

Armed with chef Bruce Dillon of Suba, a kitchen staff imported from Spain and Gaudi-inspired details throughout the cozy spot, we actually believe Wilson's assurance that he'll serve up tapas that are 100% Spanish and serve them right. The ingredients are just what you'd expect out of a back-alley bistro in Barcelona, but the presentation and technique are NYC progressive take their Costilla Fuego Lento (sangria-braised short ribs) or tasty Bombas (fried mashed potato balls) stuffed with minted goat cheese (frankly, you had us at Bombas).

The decor is La Sagrada Familia meets downtown casual, with Gaudi touches wherever you look a mosaic tiled bar, white bulbous lamps and a curvy whitewashed wall dotted with inlets for candles. The relaxed atmosphere and over 100 varieties of Spanish wine (over 20 by the glass) work for drinking with friends or grabbing a casual bite after some drinks with your girl. And if you're there during happy hour, expect to see a complimentary spread of tapas on the bar.

If only Craig could bring some authentic Barcelona weather our way too.