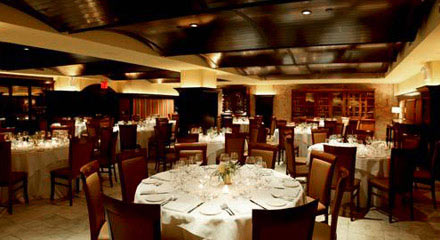 Just in time for the holiday crush, Mario Batali has opened his highly anticipated Del Posto—styled as a Venetian palazzo and with phenomenal food (and prices) to match, it's the best new place this side of the Atlantic to fire up your Black Amex.

Del Posto is "alta cucina classica," per chef/partner Mark Ladner (of Lupa and Otto fame). "It's what the Medici would have eaten in their compound in Florence." By compound, he means one from the old world: urban and palatial, with enough marble to bring Trump to his gold-plated knees.

More to the point, you will feast at Del Posto like the Medici did. Succulent proteins (rack of veal, leg of lamb and wild salmon) are selected, cooked and carved in the dining room; carts cruise about, one serving bollito misto (boiled meats), another a tasting of fall parmesan (aged 2, 4 and 6 years); and a regular menu, filled with Mario signatures like meaty pastas, delivers big. Plus, you can choose from a 100 (soon to be 200) bottle champagne list for something to wash it all down.

There is also a bar/lounge area with its own casual spuntino menu, but we advocate the more aggressive dining room tack.

At least for one night, leave plebian life at the door.