Another day, another celebrity-backed liquor.
This time, it's Woody Harrelson who's jumping into the booze game, with Holistic Spirits Company. The new brand has just launched Origen Specialty Vodka and Harmony Gin.
The actor is an environmental activist and a vegan, but you don't have to be either to enlist these new spirits in a Martini.
Harrelson teamed up with Amy Holmwood, a wellness expert with a Master's Degree in Biotechnology Enterprise from John Hopkins and a Nutrition Sciences Certification from Stanford. She wanted to use food science to devise a better botanical blend for spirits, one that prioritized all-natural, functional ingredients. Once Harrelson tasted what she was working on, he came on board.
The Holistic Spirits Company tested numerous white spirit alcohol bases to find the optimal foundation for Origen Vodka and Harmony Gin. They settled on organic white wheat for the vodka and organic corn for the gin.
Both spirits are infused with a natural blend of artichoke leaves, elderberries, green tea leaves and muscadine grapes. Harmony Gin also includes juniper berries, coriander seed, hyssop, lemon peel, lime peel, angelica root and orris root. The resulting spirits contain zero sugar, artificial flavors or colors, and no GMOs. The vodka is bottled at 37% ABV, while the gin clocks in at 45% ABV.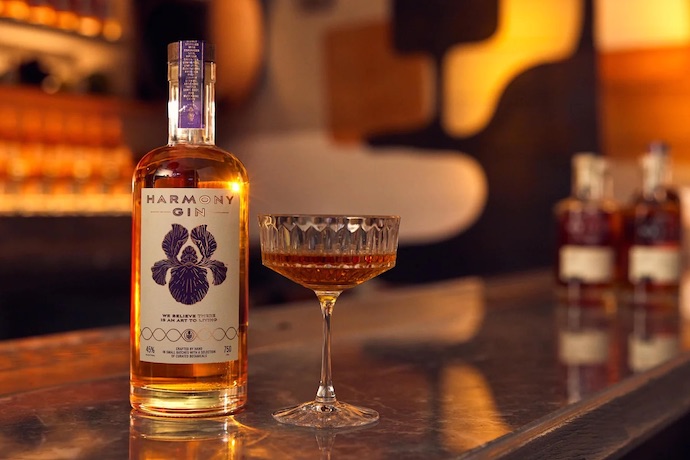 According to the brand, Origen Specialty Vodka begins with a subtle hint of round vanilla notes and balanced acidity. There's olive fruit up front, plus a hint of salinity/brininess. It finishes long, with some caramel notes and viscosity. Harmony Gin shows a subtle hint of rose water, pineapple and smoke, with clear juniper notes. It's vibrant, with mellow warming heat and a small hint of olive brine, vanilla, floral and woodsy notes. It's round on the palate with a crisp bite at the end.
Part of the founding duo's mission was to provide a better way to drink, while also showcasing something that's often lacking across the industry: transparency around ingredients. They wanted consumers to understand what's in their bottles.
"No alcohol will ever be healthy, but that doesn't mean we can't be more conscious of what we're putting in our bodies while we enjoy spirits, in whatever setting that may be," says Holmwood.
OK, OK... we'll put down the funnel.