Set in the modern day and following a wealthy family, "Yellowstone" meals are different than most frontier meals. Think more steaks and less beans heated over an open fire and eaten directly from a can.
So, when the hit show puts out a new line of foods, you don't have to politely decline.
To make it happen, FoodStory Brands teamed up with Paramount Consumer Products, and they enlisted pro cook turned part-time actor Gabriel 'Gator' Guilbeau to create a new line of "Yellowstone"-themed Western cuisine. Gator plays the Dutton's personal chef on the show, but he's also in charge of craft services in real life. That means feeding the Duttons on screen—steaks, chili and even the occasional octopus—but also feeding hundreds of cast and crew over marathon shoot days. He brought that experience to the Yellowstone foods lineup.
The line embodies the rustic experience of the "Yellowstone" universe and launched with premium coffees, seasonings and rubs, meat snacks (everyone loves meat snacks), and Angus beef chili. Breakfast meats, proteins and other items will debut later this year.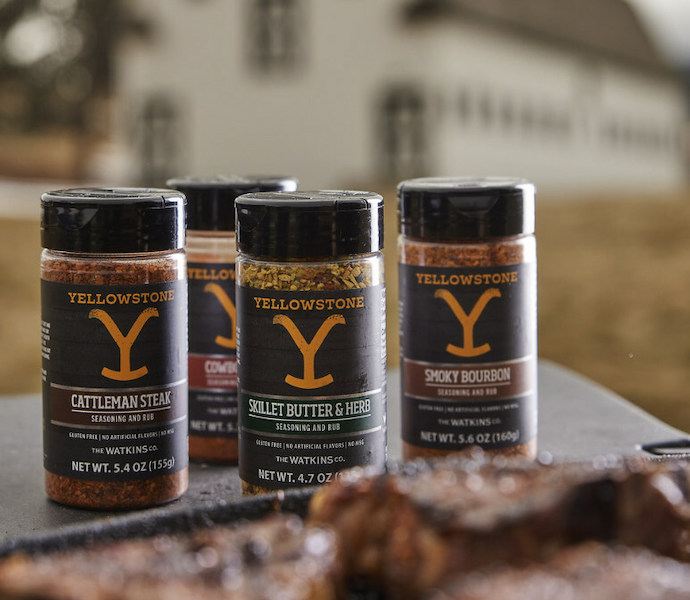 Yellowstone Coffee includes 100% Arabica coffee beans available in three different roasts: Ranch House Dark Roast, Bunkhouse Medium Roast and Caramel Oatmeal Light Roast. The seasonings and rubs can improve your home cooking, with flavors like Cattleman Steak, Cowboy BBQ, Skillet Butter & Herb, and Smoky Bourbon.
The Angus beef chili involves a blend of lean Angus beef and zesty spices and is available with or without beans. Those meat snacks are inspired by the centuries-old tradition of curing meats for long journeys. They're available as Angus Beef Sticks and American Wagyu Beef Sticks, and each is naturally hardwood smoked in Washington state. Once those breakfast meats hit shelves, you'll find a couple staples, including sausage links and thick-cut bacon.
Beyond the food line, Gator has a new cookbook titled Yellowstone: The Official Dutton Ranch Family Cookbook. So you can try your hand at some of his favorite recipes.
And if dinner goes anything like the show, you can expect a brawl to breakout.