Hawaii has a lot to offer. Before choosing which island you want to visit, it's best to consider the type of trip you want to have.
If you want top-notch food and bars, try basing your stay on Oahu. If lying on a beach following a round of golf is your top priority, Maui's got you covered. Kauai is great for lush, jungle excursions and sparse crowds. But if you want a diversity of outdoor experiences, where you can reasonably go from black sand beaches to the snowy peak of a volcano in one day, it's hard to beat the Big Island.
And if you're on the Big Island, it's hard to beat Pacific 19 Kona, a newly opened hotel in Kailua-Kona that's conveniently situated next to local breweries, good food and the great outdoors.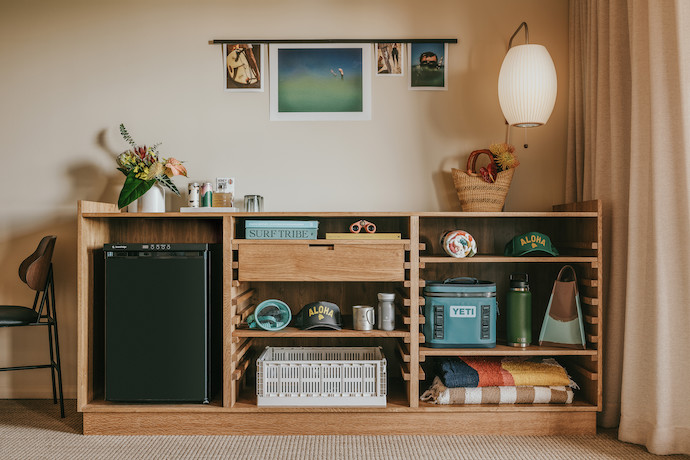 The 122-room hotel sits on the 19th parallel (hence the name), which draws a line across the Pacific Ocean connecting east to west. The original mid-century building was given a major revamp courtesy of Honolulu-based design team The Vanguard Theory, who's also behind good-looking hotels like Wayfinder, White Sands and The Surfjack. That's why you'll find a welcoming indoor/outdoor lobby full of reclaimed monkeypod wood, custom wallpaper and lush planters. It's the kind of place that people gather on purpose, not just because they're passing through.
Upstairs, the rooms are bright and comfortable, with natural wood furnishings and calming color tones. An upgrade on the typical mini bar, all Pacific 19 guest rooms include a macro bar, with everything from beers and bottles of liquor to hats, T-shirts, tote bags and adventure gear. That comes in handy, whether you need a nightcap or a snorkel mask.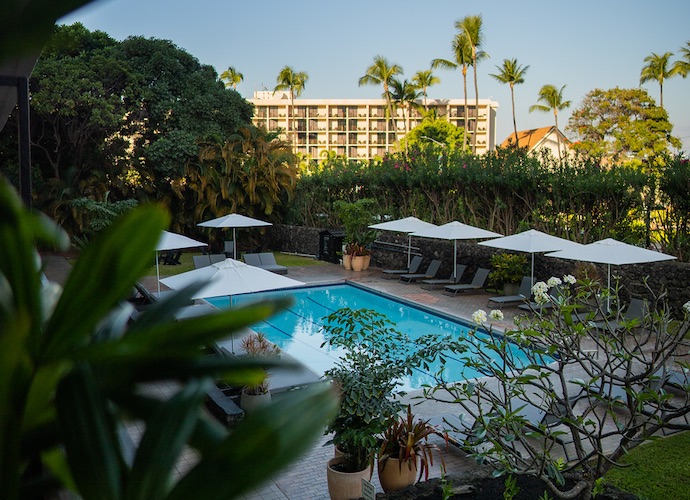 Back downstairs, the pool is set in a recessed courtyard, with daybeds, fire pits and lawn games. Join a poolside yoga class in the morning, or come back later in the afternoon, as hotel guests congregate following a full day exploring the island.
There's not a traditional restaurant onsite, but the bright-yellow trailer out front serves coffee, muffins and bagels each morning, and food trucks set up on Fridays and Saturdays to serve dinner. Weekend nights also bring musicians, who play outside under the string lights. And certain evenings feature a complimentary happy hour, where you can sip beer and wine before heading out on the town.
The hotel's location means you're only a quick walk or an even quicker drive to nearby favorites like Kona Brewing and Ola Brew Co., where you can sample all the local beers. Sushi Sam and Umekes Fish Market will keep you stocked with sea creatures, and Cheeky Tiki is an ideal spot for snacks and rum drinks from a second-floor perch that looks out over the water.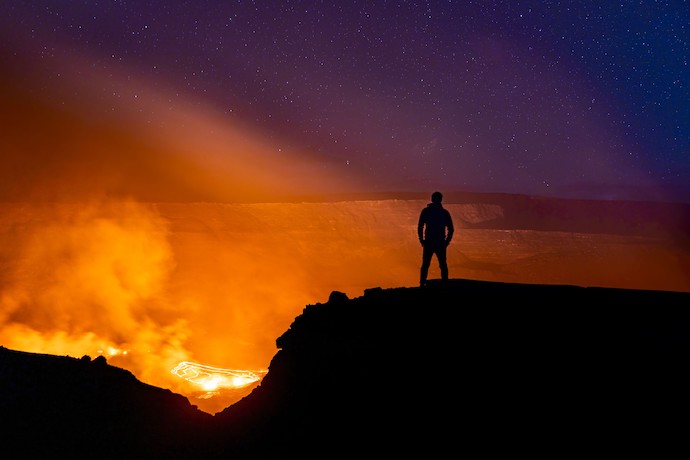 Beyond your food and drink fixes each day, you're also well situated for excursions to Captain Cook Monument, Volcanoes National Park, gorgeous beaches and scenic hikes. You can even visit Kona's famed coffee farms and trek through a cloud forest.
Just guessing here, but probably not a lot of cloud forests where you live.