Oahu is a blank slate for vacations, offering travelers every opportunity to customize their own trip, whether you want to relax in the sun, sample the local cuisine, or explore the many beaches, volcanoes and tropical rainforests.
And when the day's over and you need a comfortable place to spend the night, the island provides a variety of luxe resorts and stylish boutiques. But to embrace Honolulu's mid-century heyday—with the added touches of a poolside DJ, top-notch food and drinks, and a canine mascot—opt for the Surfjack Hotel & Swim Club. Located just a few blocks off Waikiki Beach, it's well positioned for days on the sand and nights on the town.
Enter the Surjack, and you'll find a small coffee shop and a Banks Journal retail store selling all the necessities you require, from T-shirts and sunglasses to tote bags. An oval pool anchors the ground level, and "Wish You Were Here" is emblazoned on the blue-tiled bottom. Once you are here, consider that your quintessential Instagram post card.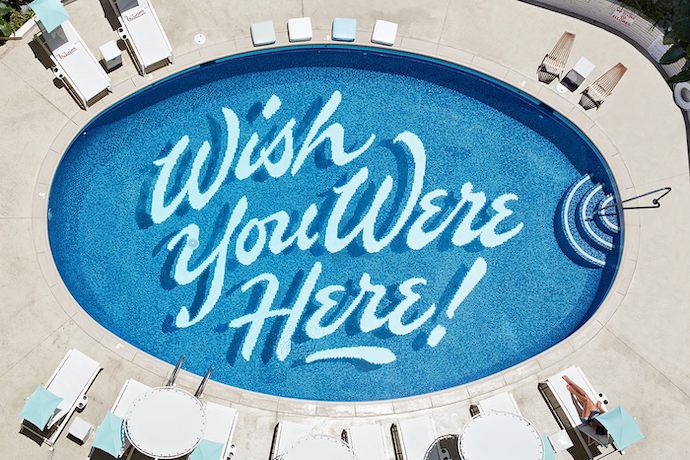 The property contains 112 vintage-inspired rooms, from quaint bungalows to sprawling penthouse suites, that are outfitted with local artwork, surf scenes, handcrafted tables and denim couches. The bungalows are perfectly comfortable for solo travelers and couples, while the two- and three-bedroom suites can accommodate a crowd. If you want to splurge, try the penthouse suite, which sports a king bedroom and a separate living area, plus a massive private lanai with views of the city.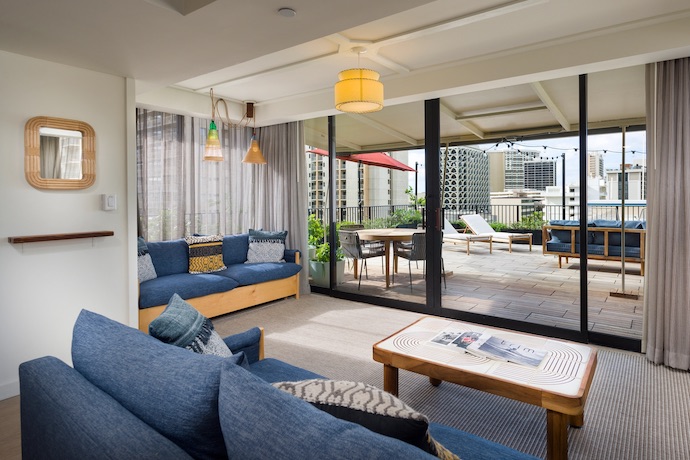 Back downstairs, the Surfjack doesn't skimp on food, drinks or atmosphere. Mahina and Sun's restaurant and bar is helmed by chef Erik Leong and barman Christian Taibi, and the lounge has nightly acoustic music, so your dinner and drinks come with a casual soundtrack.
If you're starting early, breakfast includes everything from fresh fruit and banana bread to a loaded burrito, or get the fried rice with Portuguese sausage, pickled mushrooms, kimchee and over easy eggs. Dinner brings clams with saffron and chorizo, blue marlin crudo, oxtail risotto and a whole fried fish.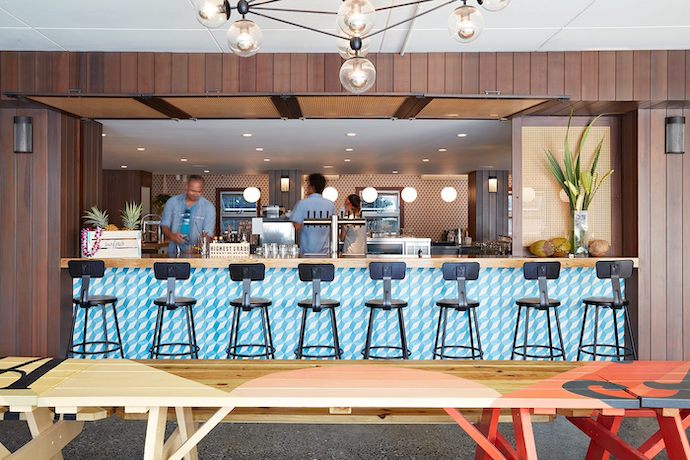 The fact that Mahina and Sun's is also one of Honolulu's best cocktail bars is just good fortune. Taibi's menu leans into island classics, but he trades sweet syrups and kitsch for dry rums, complex liqueurs and fresh citrus. Think crisp Mai Tais, barrel-aged Negronis featuring local Hawaiian gin, and an Old Fashioned riff that's poured over a coconut water ice cube.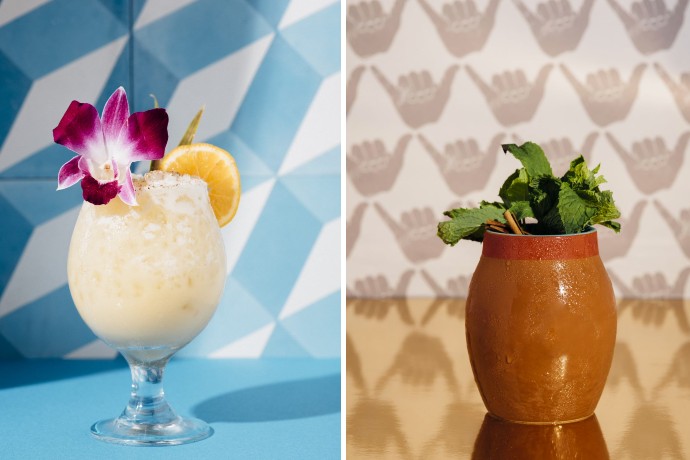 If you're visiting Oahu, you should really leave the hotel at some point to explore the island. But the Surfjack hosts a collection of events and themed experiences each month, with pool parties, silent discos and special menus, so there's always something new going on.

And if you're traveling with your dog in tow, you picked the right place. The Surfjack is dog-friendly, so you're bound to see some pets on site, including Jack, the beloved hotel dog.
He may not be the celebrity sighting you expected, but he's a lot friendlier and less pretentious than most.