Sleeping in a tent is usually associated with roughing it.
You know, bugs, the elements, outdoor bathrooms and barely enough space to stand up.
Then again, sometimes sleeping in a tent involves the square footage of a three-bedroom apartment, cochinita pibil and mezcal cocktails.
Naviva embraces the latter scenario. It's the new adults-only, all-inclusive Four Seasons Resort that just opened in Punta Mita, Mexico, with 15 luxury tents nestled amid 48 forested acres on a private peninsula overlooking the Pacific Ocean.
Ten of those 15 tents are 1,260 square feet, while five measure about 1,700 square feet. All have open-air living rooms, separate bedrooms, an expansive deck and private plunge pool. This is no KOA campground.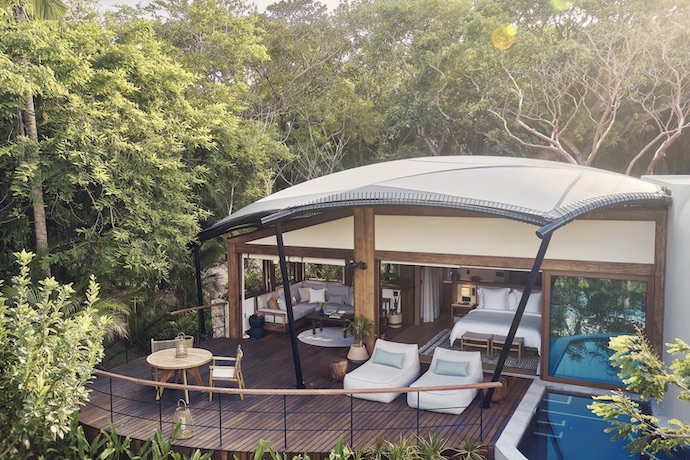 Naviva embraces the outdoors and its forested cliffside location. Do a little math, and you'll see that it accommodates one tent per 3.2 acres, or—with its maximum of 30 guests on property at one time—one person per 1.6 acres. That's a lot of room to spread out.
Guests are assigned guides, who curate experiences, such as sampling small-batch Mexican coffees, organizing hiking and surfing expeditions, stargazing or joining sunset rituals. Lean on your guide if you need anything while there.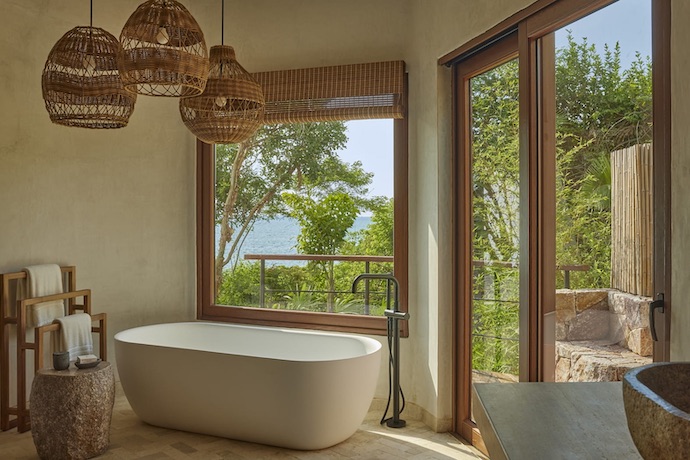 The on-site restaurant is Copal, which is designed to evoke the feeling of being in a private home. The open-air kitchen enlists open-fire cooking methods with traditional BBQ pits, wood-fire rotisseries and wood-fire ovens, and the menus feature fresh local fish and seasonal produce. The space is also where guests can congregate to hang out and play games like backgammon or get a little competition via the foosball table that was fashioned from reclaimed wood by Mexican artisans.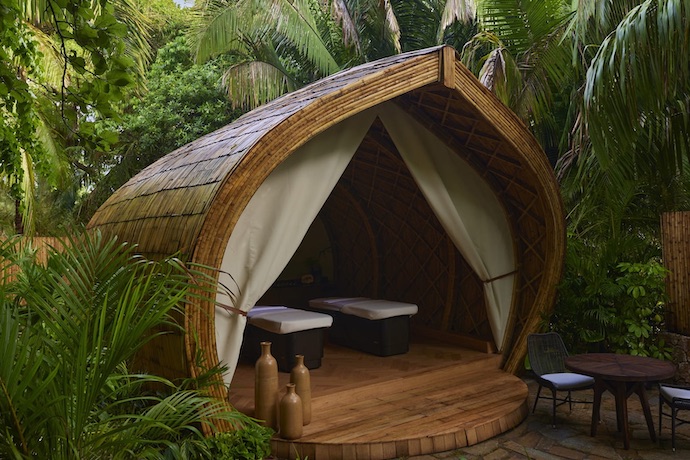 The resort also has two spa pods tucked into the forest, a traditional temazcal (heat lodge), an outdoor gym, a pool and a large private beachfront.
If you need more to do, Naviva guests also receive full access to the adjacent Four Seasons Resort Punta Mita, which is located just five minutes away. There you'll find 10 restaurants and bars, two golf courses, three pools, two beaches and additional spa and fitness facilities.
But it's hard to imagine you'll want to leave.