Most whiskey purchases involve a trip to the liquor store. You hand over money, they give you a bottle, end of transaction.
It's a tried-and-true arrangement, if a little boring.
But Virginia Distillery Company's new Cask Society program lets you create your own bespoke single malt whiskey and fly in a helicopter. And that feels like an upgrade over the typical experience.
Virginia Distillery Company is the largest independently owned American Single Malt whiskey distillery in the U.S., known for its Courage & Conviction expression and a variety of special barrel-finished whiskeys. Now, you can get a peek behind the curtain. To get started, send an email to casksociety@vadistillery.com.
From the moment you become a member of the Cask Society, your journey as a whiskey maker begins. First up, you'll take part in the cask selection process by choosing your preferred barrel from a variety of options, including those that previously held bourbon, sherry, or red wine.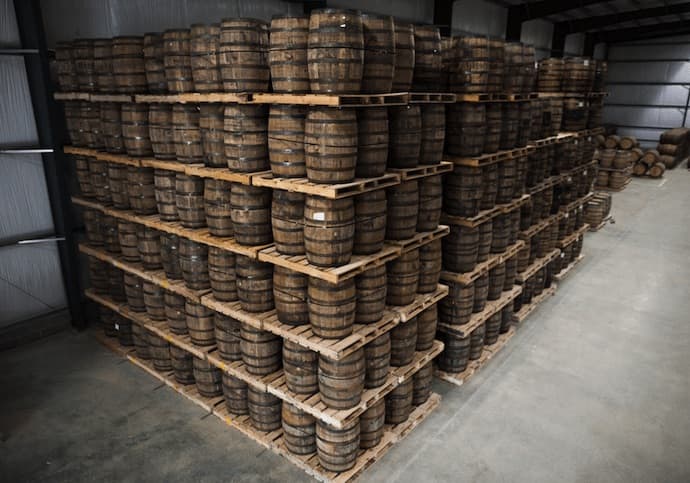 From there, you can choose from a range of bespoke experiences, such as filling your own private cask on site, creating custom infused truffles (always good to have snacks), and taking a tour of the distillery by helicopter. That last one doesn't do anything for the resulting product, but it'll give you a nice overview of where your cask will rest for the next few years.
If you want to get even more hands on, members can participate in the sensory evaluation process, or even help to blend your own whiskey with the help of Virginia Distillery Company's lead blender, Amanda Beckwith.
Throughout the process, VDC's team will keep a watchful eye on your cask for the years to follow, and members will be invited to taste the whiskey as it evolves to see how it's faring in the barrel. Once your single malt has matured to the desired level of your choosing, it's time to bottle it and design the custom packaging. After all that, you'll be the proud parents of your very own whiskey.
They grow up so fast...