If you watch Ted Lasso, you know how shortbread cookies (or "biscuits" in British parlance) play into Ted's relationship with his boss, AFC Richmond owner Rebecca Welton.
If you haven't watched Ted Lasso, but are reading this, congrats on coming out of your coma. You've got a lot of streaming to catch up on.
The point is, here's a new Lasso-inspired ice cream called Biscuits with the Boss. It's a limited-edition collaboration with Jeni's, and it goes live in stores and online March 2. The new season airs March 15, so that gives you time to stock up on a few pints.
The ice cream nods to Ted's daily ritual, in which he gives his boss a box of homemade shortbread cookies. Per Apple TV's official recipe, they feature just four ingredients: flour, butter, powdered sugar and salt.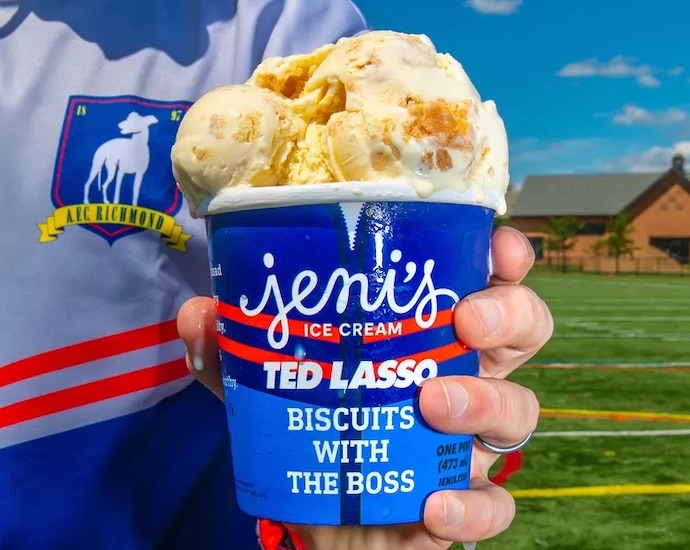 Jeni's is doing what it does best—making ice cream—and turning that recipe into a frozen treat. The new flavor features shortbread cookie crumbles folded into a salted butter sweet cream ice cream, resulting in a creamy, crumbly take on the original.
With dozens of Jeni's scoop shops around the country, it should be easy enough to find the ice cream. But if you don't live near a physical location, you can buy pints online and they'll be shipped cold, ready to enjoy upon delivery.
In the show, the cookies are a daily indulgence for Rebecca, who looks forward to the treat each morning. But you can keep these all to yourself, because it's a strange move to bring your boss a pint of ice cream at 9am.
Unless you get them a mini freezer first. Then, totally cool.