Dry January. Damp January. Regular ol' January.
We respect your right to celebrate (or completely ignore) all iterations of this month however you see fit.
But sometimes you're tempted with a steak and whiskey collab that's just too hard to pass up.
Like when legendary meat purveyor Pat LaFrieda teams up with New York distillery Hudson Whiskey on a Dry (Aged) January NY Strip Steak Kit. It's a lot like what it sounds like, assuming you think it sounds like steak that's been infused with whiskey.
Per the brands:
In honor of Dry January, we've taken one of the most celebrated cuts of steaks and made it the ultimate dry-aged New York strip, by infusing it with Hudson Whiskey's award-winning Bright Lights, Big Bourbon. Aging Pat LaFrieda's wonderfully tender, well-marbled, and delicious strips with Hudson's bold, grain-forward Bright Lights, Big Bourbon whiskey imparts notes of rich vanilla, lightly salted caramel, and deep umami flavor to premium cuts of beef.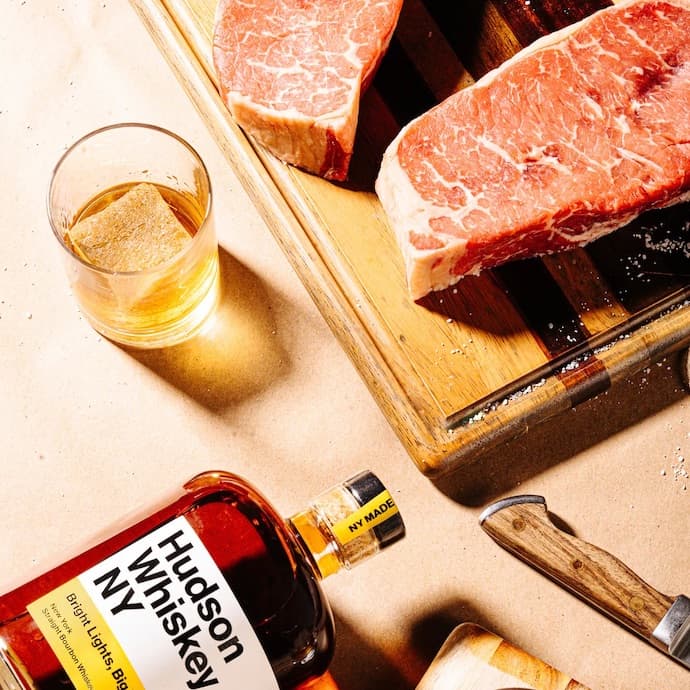 It's a limited-edition offering, so get it while it lasts. When you do, you'll receive two fresh (not frozen) 16-ounce New York strip steaks, plus two rocks glasses, a cocktail recipe card, and a code to order a bottle of Hudson Bright Lights, Big Bourbon. The last part is key, as you'll need to procure the whiskey separately.
Once you have everything in hand, cook the steaks via your preferred cooking method, pour yourself a drink, and enjoy your dinner.
Since there are two steaks, you might even invite someone to enjoy it with you.