Fly By Jing makes some of the best Chinese condiments in the game.
Maybe you've tried their Sichuan Chili Crisp, seen their hot sauce elicit yelps from Hot Ones guests, or employed this tabletop electric hot pot in the service of a DIY communal feast.
All good things. But now you can make restaurant-quality dumplings at home with Big Steamy, the brand's delightfully named new stovetop steamer.
The three-piece contraption includes a green ceramic base, a nesting bamboo steamer basket and a ceramic cover. It holds enough dumplings to serve two people and can be put straight into the dishwasher when you're done.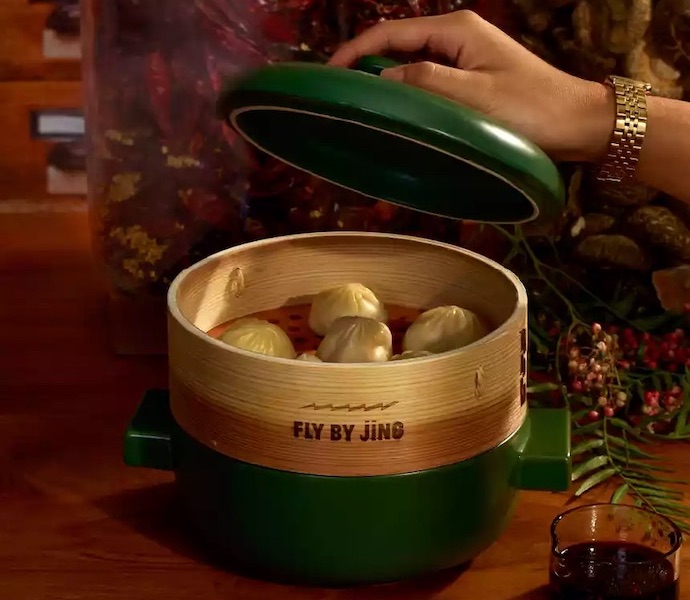 To make perfect dumplings, begin by rolling out your own dough, and then meticulously form each dumpling by hand. Or just buy a frozen pack from Fly By Jing or another outfit to save yourself some time and hand cramps. Yeah, that's probably the better of the two ideas.
Fill the base with one to two inches of water, and bring it to a boil on the stove. Line the bamboo steamer with perforated parchment paper, arrange the dumplings (we suggest as many as you can comfortably fit in there), cover it, and place the basket on the base. Steam those delicious little pockets until they're cooked through. Congrats, you just made dumplings.
Big Steamy is part of Fly By Jing's Holiday Collection, which also includes a trio of the brand's best-selling Sichuan sauces, a seven-pack of seasonings and the Salsero Serve Set, which combines a jar of the Sichuan Chili Crisp with a marble serving tray, a glass vessel and a handcrafted wooden spoon.
Collect them all, and you can make dumplings, stuff stockings and ensure a productive holiday season. Even if you're just buying it all for yourself.