Hot pot combines a boiling vat of flavorful broth with a choose-your-own-adventure medley of meats, vegetables and condiments served on the side.
It's like fondue, but with a bigger punch, and therefore it's the platonic ideal of winter comfort food.
If you're fortunate to live near a hot pot restaurant, you can envelop yourself in the warming dish whenever you want. But if you don't—or if you'd simply like to try making your own hot pot feast at home—here's this: the Hot Pot Starter Set from Fly By Jing.
Fly By Jing is best known for its lineup of flavor-packed condiments, including Sichuan chile crisp. The company has expanded into other important products, like dumplings, but now they've put together everything you need for making hot pot at home.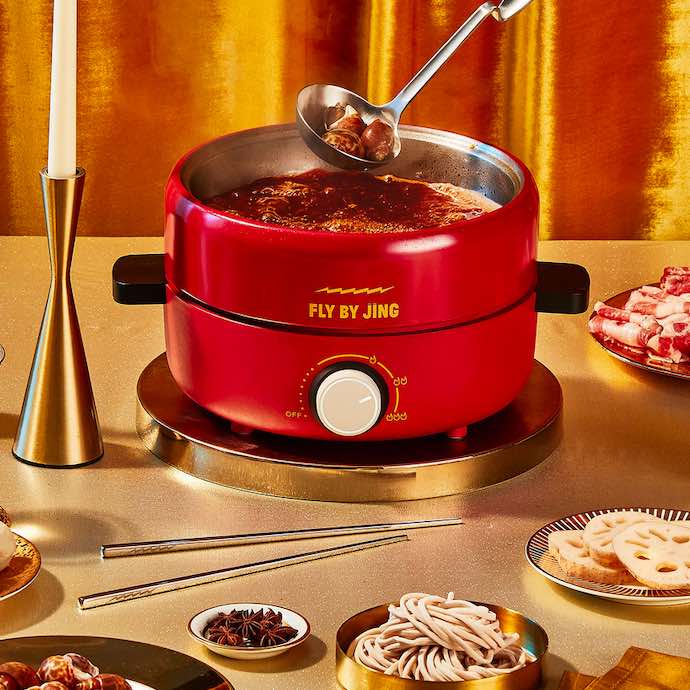 The set includes:
A 2.5-liter tabletop electric hot pot with a temperature control dial, glass lid and heat-safe handles.
Two packs of the spicy soup base. Each is loaded with a warming medley of ginger, star anise and clove, and rounded out with Sichuan pepper extract.
Two sets of silver chopsticks emblazoned with the brand's signature lightning bolt.
Two slotted spoons that were designed to lock onto the edge of the pot—so you don't lose a finger fishing it out of the boiling liquid.
To get your hot pot going, simply add water or stock to the spicy soup base, and bring it to a boil. What comes next is entirely up to you. Thinly sliced beef and pork are always a good time, and will cook quickly in the hot broth. Greens like bok choy and cabbage are popular additions. The same goes for seafood, mushrooms, noodles, eggs, chilies and garlic. The only limit is your imagination.
And whatever you thought to buy at the grocery store that day.