FinOnce the weather turns cold, we often turn to warming drinks like the Irish Coffee or Hot Buttered Rum.
But ice cream doesn't care about seasons—it's great all year round.
And now you can combine the best of both worlds with this new McConnell's collaboration. The California-based ice creamery has partnered with Red Clay, the Charleston hot sauce company, to create McConnell's x Red Clay Hot Honey Buttered Rum. It's available in McConnell's scoop shops across Southern California and nationwide via the website.
McConnell's has been making ice cream for more than 70 years. So, they've seen some things. But this new limited-release flavor combines cinnamon, nutmeg, house-baked speculoos cookies and heaps of Red Clay's Hot-Hot Honey, and it's all spiked with rum. Sweet, spicy and boozy—the holy trifecta.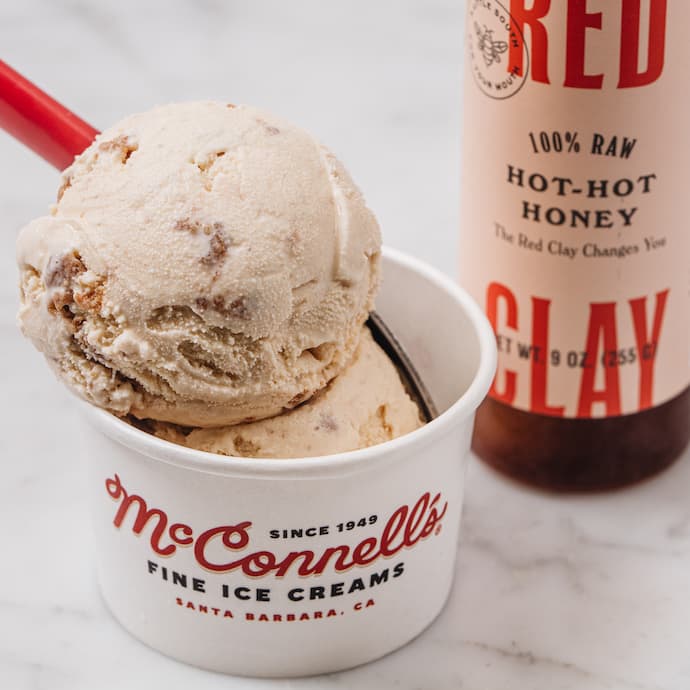 Red Clay's Hot-Hot Honey is a ramped-up version of the brand's best-selling Hot Honey. To make it, they infuse 100% raw wildflower honey with habanero peppers. And they suggest you try it anywhere you'd normally use honey or hot sauce, including in dressings or marinades and drizzled over pizza. But gentle guidelines are made to be broken, so now it's going on ice cream.
If you live near a McConnell's shop, stop in to pick up a couple pints. Otherwise, order online and the goods will be shipped straight to your doorstep in an insulated box packed with dry ice.
Send some to yourself, or send some to friends. Nothing says "I want to keep being friends" like hot honey buttered rum ice cream.