To look like Dwayne Johnson, you need to work out for multiple hours per day, maintain a strict protein regimen, own a tequila brand and eat lots of French toast.
That's our takeaway.
And at least one of those things sounds entirely reasonable.
Johnson's favorite French toast comes from Racquel "Chef Rocky" Rockquemore-Breiz, who once served as his personal chef and currently owns Brique French Toastery in Los Angeles. Now, via the magic of Goldbelly, the internet, and nationwide shipping, that very same French toast is available to order straight to your home.
The year was 2020. You remember that one. Not the best. And, like all of us, the Rock required some comfort food. As the story goes, Chef Rocky made him some brioche French toast, and he liked it so much that he posted it on Instagram. The dish quickly went viral, and Chef Rocky parlayed that into her own restaurant.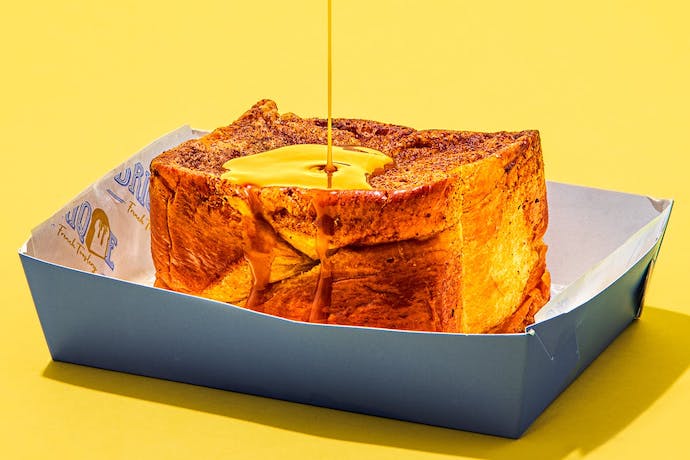 This ultimate cheat-day dish just hit Goldbelly, which means you can now try it for yourself even if you're nowhere near L.A. It's available in a variety of packs that serve four to 16.
Once it arrives, you'll find a decadent, fresh-baked brioche that's been dunked into creamy cinnamon-spiced custard and then cooked to a glorious golden brown. Chef Rocky did all the hard work. So all you need to do is give it a quick reheat, and then top it with one or more of the provided garnishes. We're talking peanut butter coconut maple syrup, vanilla bean whipped cream, and toasted coconut chips.
Dwayne Johnson also eats lots of eggs, fish, lean meats and vegetables. You know, healthy food. But unless you have a superhero movie coming out or a magazine cover shoot, you can build your diet around this French toast.