If you're looking for the perfect Cinco de Mayo meal, you can't go wrong with tacos.
Now that that's settled, let's move onto the next topic: beer. Specifically, which beer to drink alongside those tacos.
If you said "all of them!" you're not wrong, and we like your enthusiasm. But bonus points to anyone who suggested Taco Tuesday Mexican Lager.
This beer comes from Atlanta-based Monday Night Brewing, and even though it's a perfect drink for Cinco de Mayo and summer in general, it's available year-round because tacos do not abide by things like holidays or seasons.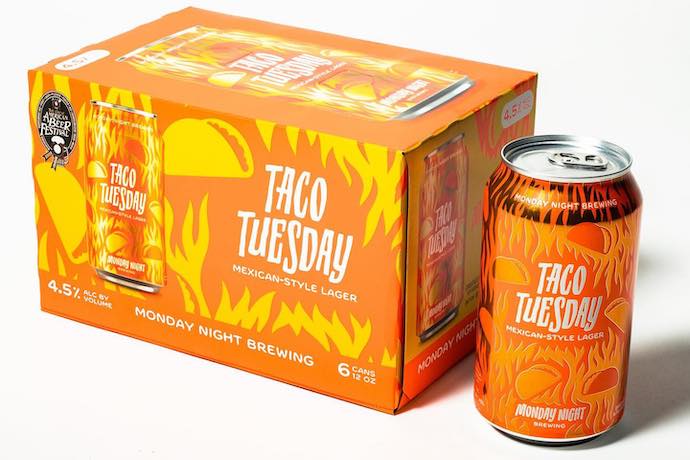 Taco Tuesday clocks in at 4.5% ABV, so it's as sessionable as they come. And, if you care about such things, know that it's brewed with pilsner and Munich malts and hopped with Saphir and Saaz hops. You can find it on tap in select bars, plus in cans. The latter only look like they're on fire, so feel free to hold with or without a koozie.
Now, you may think that this beer can only be consumed on Tuesdays or with tacos. That makes sense, on the surface, but the company is quick to offer a correction:
"Taco Tuesday is a light, crisp crusher for any day of the week. This Mexican-style lager has a touch of sweetness with a smooth finish. It's the ultimate pairing for tacos, but it works with all other types of food, too. Like fajitas. Or burritos. Or enchiladas."
So, it's nothing if not versatile