Eleven Madison Park has three Michelin stars and formerly held the title of "World's Best Restaurant."
Dining inside its walls is an event—and a pricey one.
But the new Eleven Madison Home brings the restaurant's meticulous sourcing and high-end cooking straight to your door via a weekly box that's loaded with a full day of meals and snacks for one or two people.
Eleven Madison Park made waves last year when it reopened with an entirely plant-based menu following its extended pandemic-related closure. Each night, chef/owner Daniel Humm and his team are tasked with turning out high-quality plates without their old tricks—namely, luxurious ingredients like prime beef, fresh seafood and foie gras.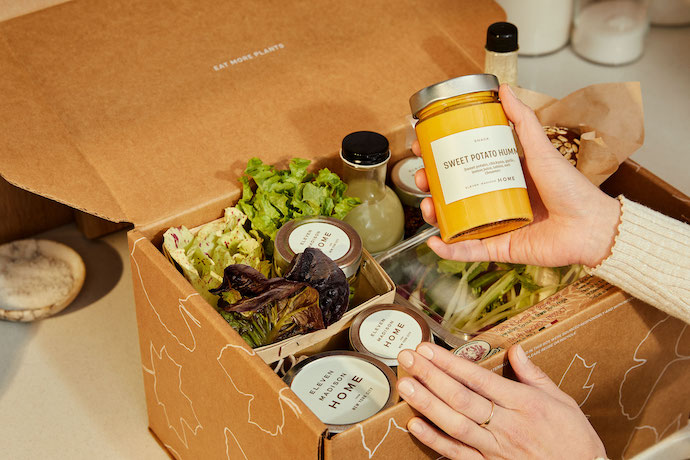 The Eleven Madison Home box is their way of getting in front of more people, and hopefully encouraging those people to eat less meat and more plants. Giving said people a box full of delicious food is a good start.
Breakfasts and lunches arrive ready-to-eat, whether at home or on the move, and dinners and desserts require minimal preparation—no fancy equipment or skills necessary. The curated boxes also feature snacks and assorted goods from local purveyors.
The menu changes each week, but to give you an idea of what's in store, here's the first menu, complete with Humm's notes: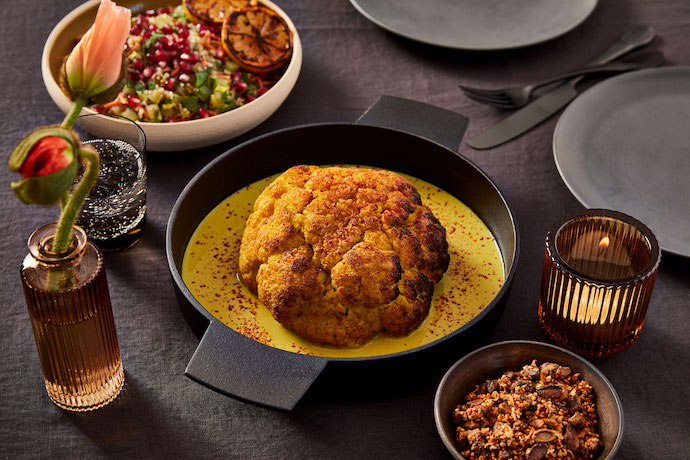 Breakfast: Creamy coconut-chia yogurt topped with fresh strawberries, makrut lime and cocoa nib. "It's rich but also super, super light. It's ready to eat, so you can just take it on-the-go, no problem. Eat it with our EMP granola bar, which is packed with protein, thanks to a powder we get from Ulli's Oil Mill upstate. Or just keep the bar for another day, when you need a boost."
Lunch: A crunchy wedge salad made with baby romaine lettuces, smoked chickpeas and lemon tahini, plus a minestrone soup. "We've been making that soup at EMP for years. Sometimes, we serve it as its own course. Other times, it's the base of a dish. Always, it celebrates the season's finest produce. In this case, those ingredients will be green beans, English beans, and favas: late spring in a bowl."
Snack: Root vegetable chips made from seasonal ingredients like sweet potato, celery root and yucca.
Dinner: Long-grain rice from Blue Moon Acres Farm, paired with morel mushrooms, bok choy and some of the EMP team's favorite pickles. "You heat it up with broth, almost like a risotto."
Dessert: Easy-bake chocolate cookies. "We've been working on the recipe for months. They are amazing. We've included some Amagansett Sea Salt to make them even better."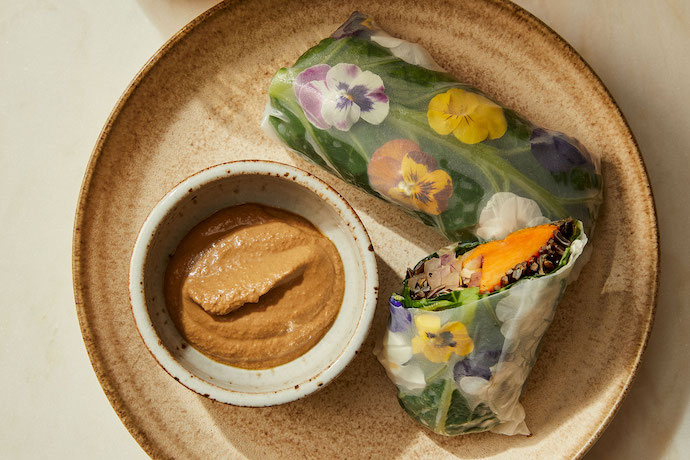 The one-person box is $150, which isn't cheap. But it's a lot cheaper than dining at the restaurant, it provides a full day's worth of food, and each box purchased allows the company to donate one meal to people experiencing food insecurity in New York.
So it's starting to sound like a pretty good deal.