Ice cream and tequila are two of life's great pleasures.
If you want to combine them, which seems reasonable enough, you could take a swig of tequila between bites and then shake your head vigorously back and forth.
Or you can save the whiplash and pick up some tequila-spiked pints from Tipsy Scoop, the boozy ice cream people. Because the new Jaja Tequila x Tipsy Scoop Cinco de Mayo Batch is here just in time for your holiday celebrations.
From now through May 5, New Yorkers can score a tequila-laced ice cream scoop, pint or flight in-person at Tipsy Scoop shops in Manhattan, Brooklyn and Long Beach. For everyone else, there's the Internet. Pints and four-packs are available via Tipsy Scoop's website and also on Goldbelly.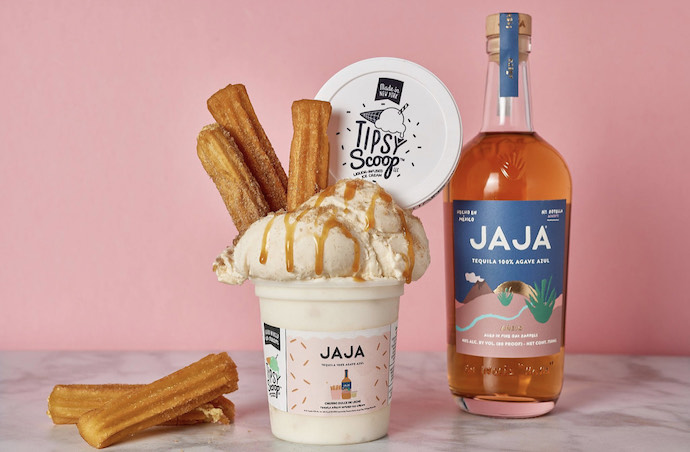 Here's what you're working with:
Margarita Sorbet: This refreshing, dairy-free flavor blends Jaja blanco tequila with fresh lime sorbet and triple sec, for a sweet and sour combo.
Watermelon Basil Margarita Sorbet: Blanco tequila merges with watermelon sorbet, basil and lime. It tastes like summer.
Coconut Margarita Ice Cream: Reposado tequila and dairy-free coconut cream ice cream create a rich and sweet treat.
Churro Dulce de Leche Ice Cream: JAJA's añejo tequila pairs with a decadent churro dulce de leche ice cream, for a satisfying blend of cinnamon-sugar and tequila.
Orders will arrive within two to three days, so it won't be long before you're face-down in a pint.
And when someone asks if you've been drinking, you can honestly say no.