Ice cream is one of those desserts that you're happy to buy in a store or have others make for you.
Because the typical heavy, messy ice cream maker just doesn't produce a product that's noticeably any better than the alternative.
But, if you screw up, it's noticeably worse.
Frolic wants to change that. It's a new countertop ice cream maker that turns frozen pods into smooth dessert in just two minutes.
The company's Kickstarter quickly exceeded its fundraising goal (hey, people like ice cream), and devices are expected to start shipping in June.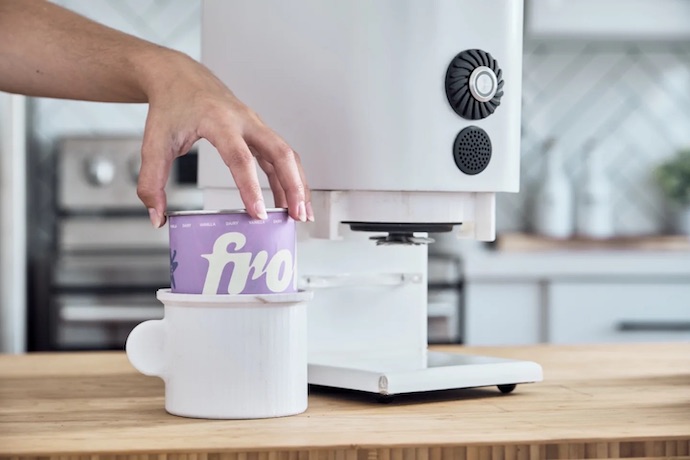 First thing to know: Frolic has a good pedigree. It was created in collaboration with Dana Cree, the executive pastry chef of The Publican restaurants in Chicago, a two-time James Beard award finalist, and author of Hello, My Name Is Ice Cream. So, that should make you feel a little better before reserving a machine for yourself.
The ice cream base is fresh dairy from a small farm in Northern Illinois. It's packed into 13.5-ounce pods (a little smaller than a pint) that you place into the machine, similar to operating a Keurig or Nespresso. Those pods are available in chocolate and vanilla, with options for light and vegan. But you can easily tweak the flavors by adding your own ingredients, like strawberries, Oreos or coffee beans. The machine will blend them into the ice cream until the consistency is perfectly smooth.
Frolic claims that its ice cream comes out so smooth and creamy because the ice crystals are up to 10 times smaller than traditional ice creams. And the smaller the crystals, the smoother the ice cream.
This doesn't have to replace your favorite ice cream shop or preferred pint. But the fast, easy-to-use machine is an upgrade from the typical clunky ice cream maker. And it's good practice.
Because soon, our entire diet may come from pods.