Nashville's Pat Martin is the man behind Martin's Bar-B-Que Joint and Hugh-Baby's BBQ & Burger Shop.
He's also a tireless champion for live-fire cooking and is one of the few pitmasters carrying the torch for West Tennessee-style whole hog pit barbecue.
So, he's a great resource on all things fire and meat.
When you're attempting to master the above, you can't just call him up at all hours with your burning questions. But you can consult his brand new book, Life of Fire: Mastering the Arts of Pit-Cooked Barbecue, The Grill, and the Smokehouse.
Throughout the hardcover book's 320 pages, Martin dives into his lifelong passion for live-fire cooking, providing detailed instructions, guidance and recipes—lots of recipes. Sixty-five, to be exact.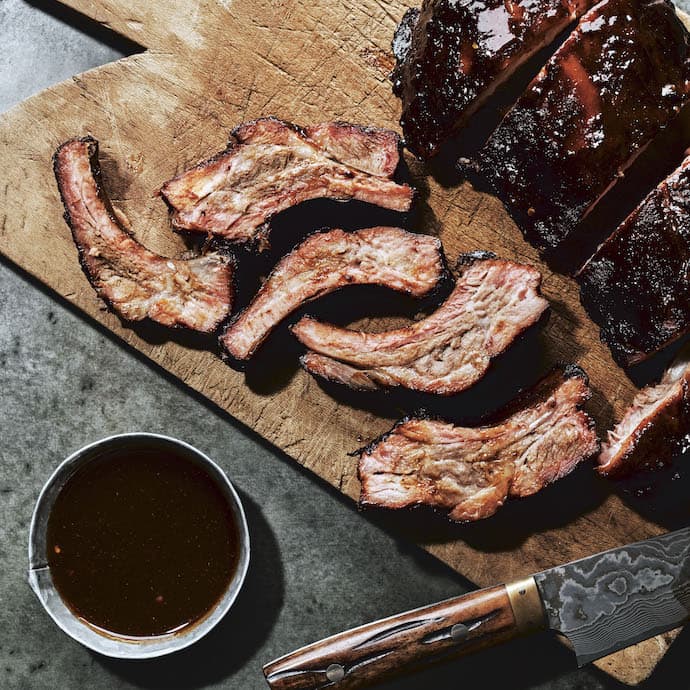 "Understanding barbecue and other kinds of live-fire cooking—grilling, charring, ash-roasting, and cold-smoking—is mostly about mastering fire," explains Martin in the intro. "We usually think of 'fire' as a pile of wood set ablaze, but that's only one stage of a fire's lifespan, and this most primal source of heat has so much to offer beyond its hottest phase."
To illuminate this point, the chapters follow a unique construct and are titled after life stages: Birth (building a fire), Youth (the hot, temperamental fire), Middle Age (open-pit and spit barbecue), the Golden Years (pit barbecue for whole hog and other meats), Old Age (cooking in ashes and embers), Cold Smoke (smoking bacon, ham and other meats) and After the Fire (desserts).
Give it a read, and you'll learn how to select and source wood, use the proper tools and maintain the flames. You'll glean pro tips on prepping and cooking whole hogs. And you'll even learn how to build a pit, a spit and a smokehouse.
Recipes are peppered throughout each chapter and include everything from Open-Pit Rabbit, Spatchcock Chicken, Whole Spareribs and Pulled Pork Sandwiches to Charred Butternut Squash and Ash-Roasted Beets. Alongside the recipes are all the photos you want to see of such things.
By the end, you'll be well-versed in the ways and traditional practices of authentic American barbecue in its purest form.
And you will, undoubtedly, be very, very hungry.