Before T-Pain brought delightful melodies to Lonely Island's On a Boat, he released the hit single Buy U A Drank.
Now, the Grammy winner is sticking with that tried-and-true theme, but turning his attention to the written word.
Can I Mix You a Drink? is a new book by T-Pain and star bartender Maxwell Britten that explores the hip-hop artist's life and career through 50 cocktails.
In the intro, T-Pain says "...ever since I picked up a pen in one hand to write my first song, I had a beer in the other. Alcohol and music always went hand in hand for me."
Over the years, he moved from beer to liquor to well-made cocktails. Now he's sharing that love of cocktails with the world, and each drink has been curated to reflect a sentiment from one of his songs.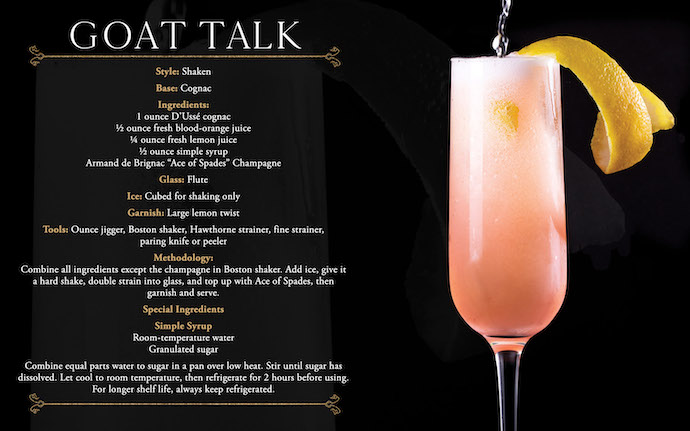 To make it happen, he enlisted Britten, the former Bar Director of Brooklyn's James Beard Award-winning Maison Premiere. So, the drinks are pretty legit and feature fresh ingredients, but everything gets a fun name and some T-Pain flair.
Several drinks are tweaks on classics, like All I Do is Win, which is based on the Whiskey Smash, and Booty Werk, a Ramos Gin Fizz variation topped with Red Bull. Calm the Fuck Down calls for Pimm's, coconut water, CBD oil, blueberry jam, arugula and ginger beer.
Every few recipes, you get interludes of T-Pain's drinking advice and wisdom, which are the real star of this show. Flip through the black-and-gold pages to find his golden rules for drinking like a pro, a section detailing the "five most expensive liquor brands I've ever purchased while sober," and "the five things you can always blame on alcohol." Learn about strip club etiquette and what he calls the "flying sausage." There are some real gems in there.
By the end, you'll have gained some insights into T-Pain, the man and the artist. And, above all else, you'll learn that he really just wants you to have a drink, be cool, and enjoy yourself.
A good lesson for us all.